Disclosure: This post is sponsored by The Quaker Oats Company. All opinions are my own.
Eating a healthy heart diet can be flavorful and fun, especially if you are given the tools to make heart healthy eating delicious—like oats.
Oats are a super grain that can be part of a heart healthy diet and possess more possibilities than people think. You ready to think outside of the bowl? Well I have a recipe for you that is super simple and can be eaten at breakfast or even lunch.
The main ingredient in the recipe below is Quaker oats. Quaker helped pioneer the FDA's heart health claim more than 20 years ago to help people understand the heart healthy benefits of oats. A strong and growing body of science supports that eating oats as part of a heart healthy diet may help reduce factors for heart disease, such as high cholesterol. This is because oats provide a type of soluble fiber called beta-glucan, which may help to lower cholesterol levels, and reduce the risk for heart disease. Eating 3g of soluble fiber from oatmeal daily as part of a diet low in fat and cholesterol may reduce the risk of heart disease. A serving of Quaker Old Fashioned Oats provides about 2g.
Each serving of this recipe contains ½ cup of oats and just ½ cup of oats gives you a good source of fiber. Since the recipe makes four servings, I suggest dividing the pudding into four different to-go containers. This is an excellent and easy way to meal prep for yourself, so you have a convenient grab-and-go option.
A heart healthy diet should include whole grains, fresh fruits and vegetables, low fat dairy, lean protein and legumes, and should limit fat, saturated fat and cholesterol and sodium. This recipe per 1 serving provides about 2g soluble fiber from oats. Experts recommend that to maintain good health, no more than 10% of your calories should come from saturated fat, and no more than 20-35% of daily calories should come from total fat.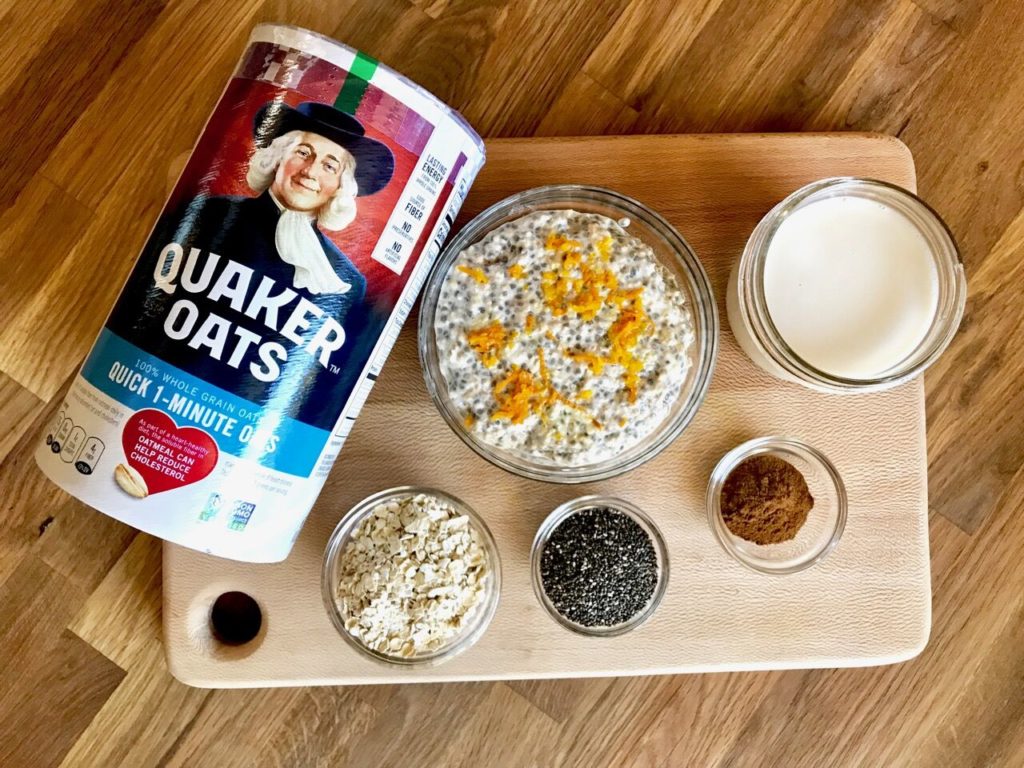 Citrus Oats Chia Pudding
Serves: 4
Ingredients:
2 cups Quaker Oats (1 min quick)
2 cups vanilla almond milk
3 tablespoons chia seeds
2 teaspoons orange zest
? teaspoon cinnamon
Directions:
Put the oats, milk, chia seeds, orange zest, and cinnamon in a small bowl and whisk to combine. Cover and refrigerate for 2 hours or until the texture is firm and pudding like.
Visit quakeroats.com to learn more about the benefits of oats.