The new year is here already! The start of a new year is the start of a new you for most people and that includes making resolutions to lose weight and get fit. Well, one fantastic practice I tell people that are looking to achieve all of these goals successfully is to meal plan.
I have partnered with Unilever to give you a meal planning idea that is both quick and delicious using Knorr® Selects, a new premium line of rice side dishes that contain no artificial flavors or preservatives, and are gluten free. Knorr® Selects can be the perfect base to create a mouthwatering and nutritious main meal using just three simple components: Knorr® Selects, lean protein and fresh veggies. This line is also made with responsibly sourced rice from Arkansas.
Many individuals' objections to meal planning is that it takes time. However, there are ways to make this process fast and less daunting. First, meal planning doesn't happen unless you have a shopping list. On this list, it is important to include fruits, vegetables and lean meats to use during the week such as chicken breast, fish, shrimp or tofu. Busy families often find it difficult to fit cooking into their schedules during the week, so try to spare at least an hour over the weekend to prepare bulk batches of lean protein and vegetables.
Even with a hectic lifestyle, Knorr® Selects can help you have a fresh meal in less than 15 minutes that your entire family is going to love. The best part is, all you have to do is add your prepped lean protein and veggies that you cooked on the weekend and pair it with Knorr® Selects for speedy and easy meal preparation that will save you time. For this recipe, I have used pre-cooked chicken breast to create a tasty rice dish.
Chicken and Broccoli Rice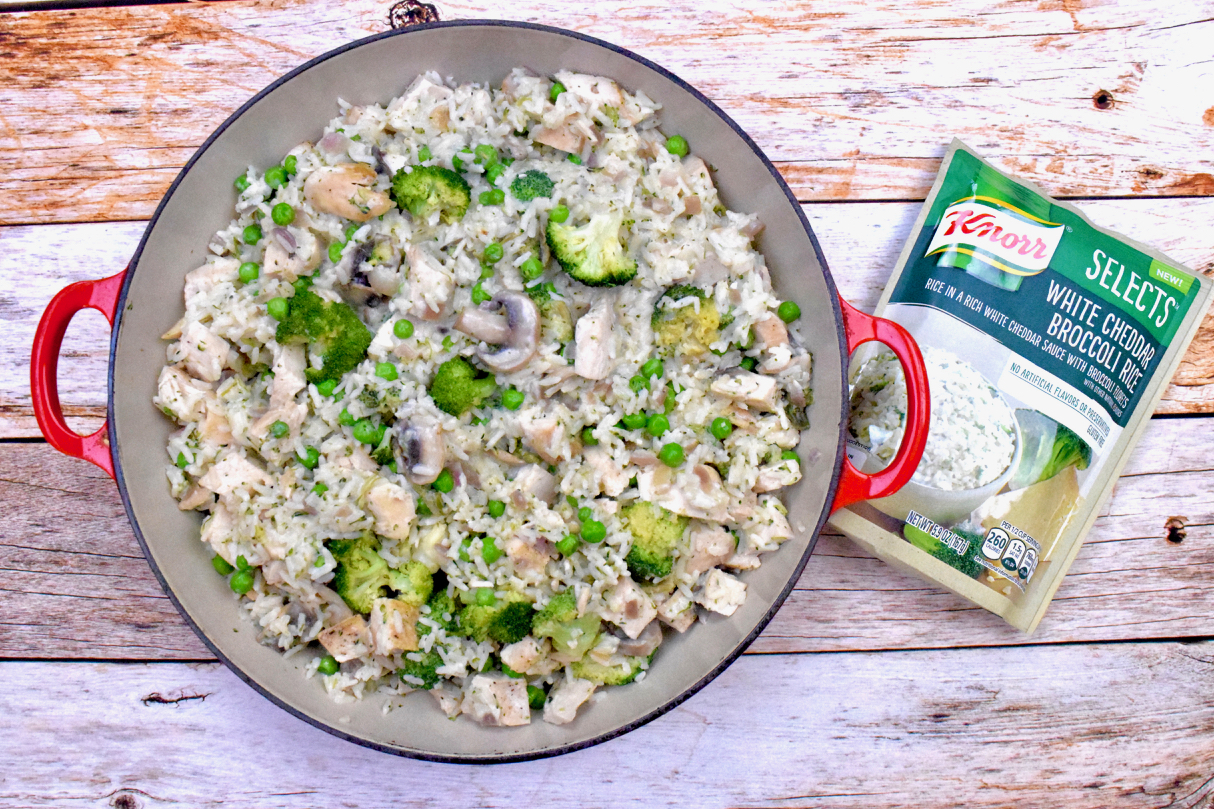 Prep time: 5 minutes
Cooking time: 15 minutes
Serves: 4
Serving size: 2 cups
Ingredients:
1 tablespoon of canola oil
1 cup red onion, diced
1 tablespoon garlic, crushed
8 ounces white mushrooms, sliced
3 cups broccoli florets, chopped
16 ounces cooked chicken breast, cubed
1 cup frozen peas
2 packages of Knorr® Selects White Cheddar Broccoli Rice
2 ounces of shredded parmesan cheese
Salt and pepper to taste
Directions:
In a medium pot, add the canola oil and heat over medium high heat for 1 minute
Add the onion and garlic and cook for 2-3 minutes or until onions become translucent
Add mushrooms and cook for 2 minutes.
Add broccoli and cook for 4 minutes. Stir and cover.
Add chicken and peas. Stir and set mixture aside.
Cook the packages of Knorr® Selects White Cheddar Broccoli Rice as directed on the package without the oil. Two minutes before rice is completely cooked, add chicken mixture and parmesan cheese to the pot. Stir. Add salt and pepper to taste.
Let stand at least 2 minutes. Stir and serve.