If you're looking for the best frozen meals for weight loss, this is for you. I share my key dietitian guidelines such as calorie limits, protein, fat, and carbohydrate levels, and sodium intake, and what you need to add to them for an optimized meal.
I recently had a client tell me that he spent $1500 last month on food delivery bills. And let me tell you – these delivered meals are convenient. But the fees add up and the food choices aren't always going to keep you on track.
So when another client asked me about healthy frozen meals, the universe was calling me to do this video. I've been working with this client for 3 years, and after all of the work she's put in, she can think for herself to find new ways to reach her goals.
I made my rounds to top stores and found a few frozen meals for weight loss that I recommend using as the base of your meals.
Plan A, Plan B, and Plan C for Weight Loss Meals
Enter frozen meals. I like to call them the perfect Plan C. Why Plan C?
Well Plan A consists of you cooking a homemade meal. Plan B is when you buy frozen food like turkey meatballs, brown rice, etc. and there is minimal cooking involved, such as Pasta with the meatballs, frozen veggies, and pasta sauce.
And then there is Plan C. A frozen dinner. The catch is that you won't only be popping the meal into the microwave. You're also going to need to add a few other ingredients.
How to Choose the Best Frozen Meals for Weight Loss
Let's start by what to look for on the label. Here are guidelines for the key nutrients, with additional insights below the target amounts.
Nutrient
Amount
Notes
Calories
<600calories
400-500 for lunch
500-600 for dinner
Protein
30-35g
Supplement if less than this (see note below)
Fat
<25g
Preferably 10-20g
Carbohydrates
45-60g
Supplement if less than this (see note below)
Sodium
<600mg
Adjust other meals if above this
Protein
There are very few frozen meals that will reach this target. It's more likely you'll see them in the 15-20g range. If this is the case, you'll need to add more protein. Examples include rotisserie chicken, canned fish, lean beef, or lean pork.
Additionally, many frozen meals are more plant-based which makes it more difficult to get the protein. If you want plant-based meals, supplement with a protein shake too (protein and water).
Fat
While you don't have to get hyper critical of the amount of each type of fat, aim for lean options. For example, chicken breast, lean beef, etc.
Carbohydrates
If you find a meal that hits all of the other targets, but only has 12g of carbohydrates, add in a serving of whole grains. This will make the meal more filling and will keep you full for longer.
Sodium
Sodium can mask your weight loss, so you should be aware of it in meals. If the frozen meal has 800mg, perhaps you eat less sodium in your next meal. Adding fruits and vegetables and drinking plenty of water also helps not to retain.
Frozen Meals for Men vs. Women
Remember, men typically need more in a meal than women. So if you're a male, you may need to add more grains and/or protein. You can also opt for larger frozen meals that are targeted more towards men to make up for the gap in nutrients.
Add Vegetables to the Mix
Many of these frozen meals also don't contain enough vegetables, which can help add bulk to the meal and fiber to keep you fuller for longer. You can easily supplement with a side of broccoli, cauliflower, or any veggie you prefer. To make things easy roast some vegetables during the weekend to have them ready.
What about Non-GMO, Organic, Etc?
You may be wondering, what about non-GMO, organic, sustainable, etc. These are all great, but that's your choice. I'm telling you macros and calories to lose weight.
Some Top Recommendations for Frozen Meals for Weight Loss
Here are 4 options that are a great starting point to add the additional protein and grains where needed
1. Lean Cuisine Protein Kick Glazed Chicken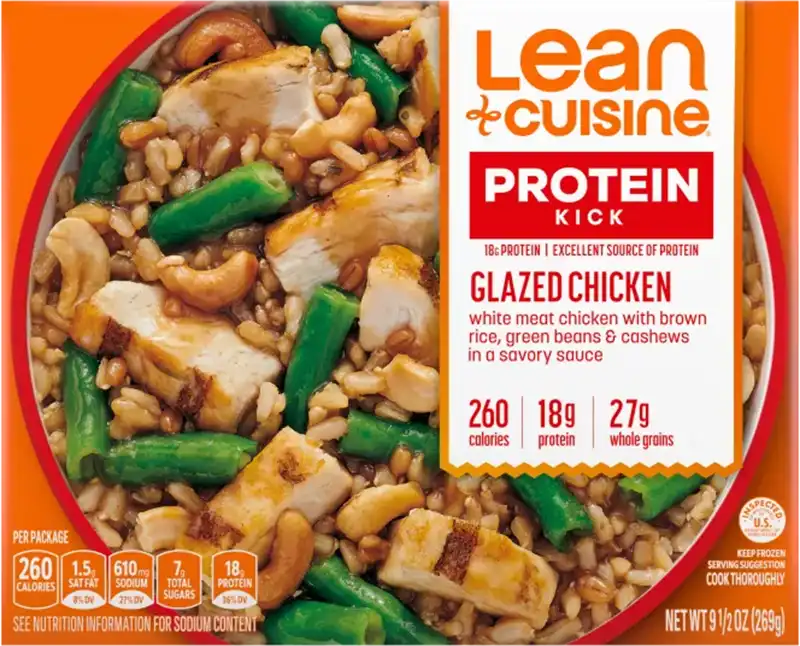 Calories: 260
Protein: 18g
Fat: 5g
Carbs: 36g
Sodium: 610mg
2. Healthy Choice Power Bowls Cuban-Style Pork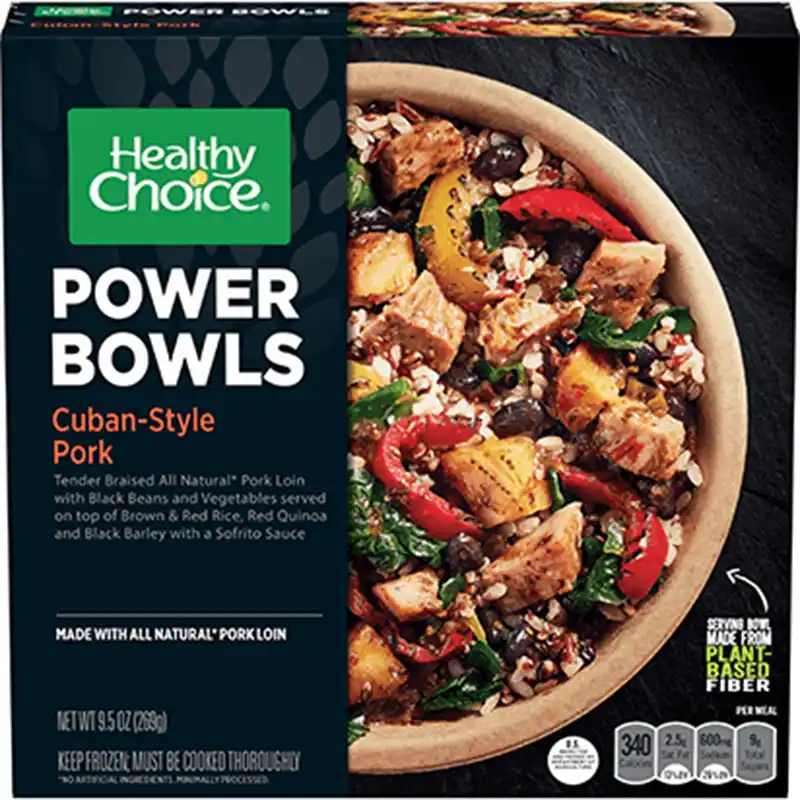 Calories: 340
Protein: 20g
Fat: 8g
Carbs: 46g
Sodium: 600mg
3. Amy's Bowls Brown Rice Black-Eyed Peas and Veggies in a Flavorful Tamari Ginger Sauce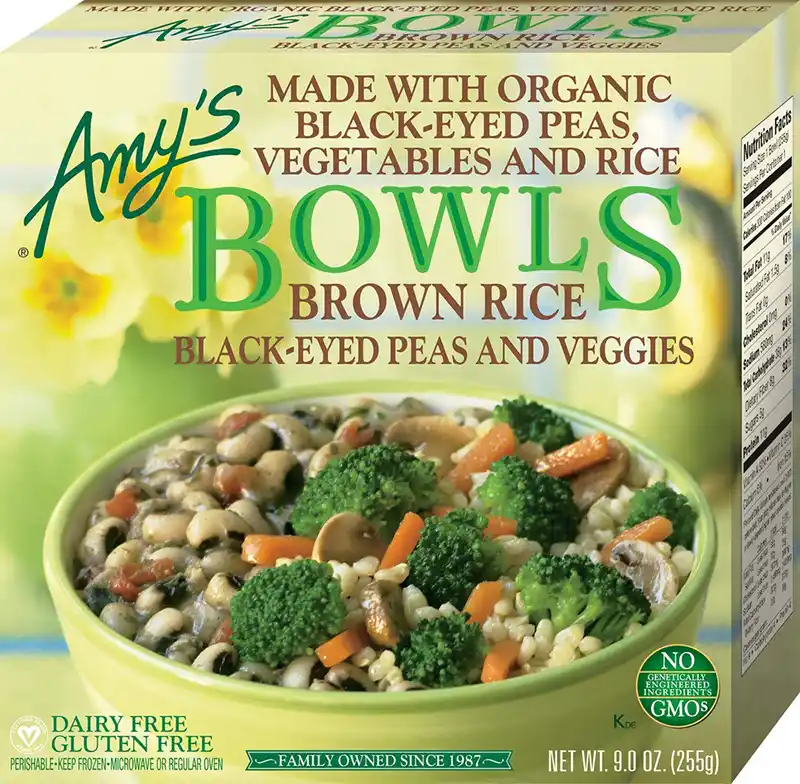 Calories: 300
Protein: 9g
Fat: 11g
Carbs: 40g
Sodium: 590mg
4. Healthy Choice Simply Steamers Beef Chimichurri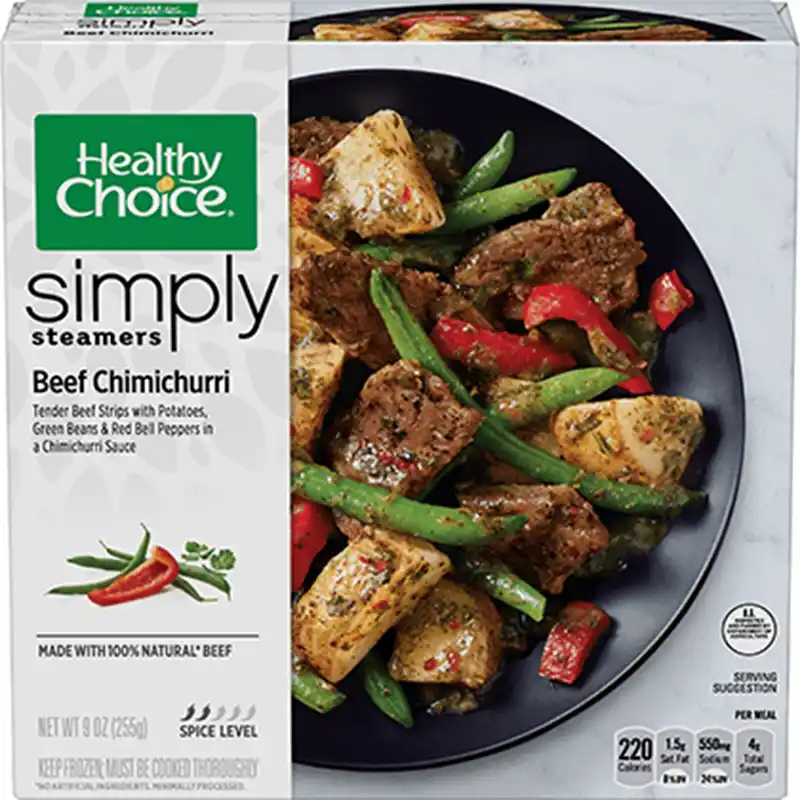 Calories: 220
Protein: 16g
Fat: 6g
Carbs: 24g
Sodium: 550mg
5. Healthy Choice MAX Honey Sriracha Chicken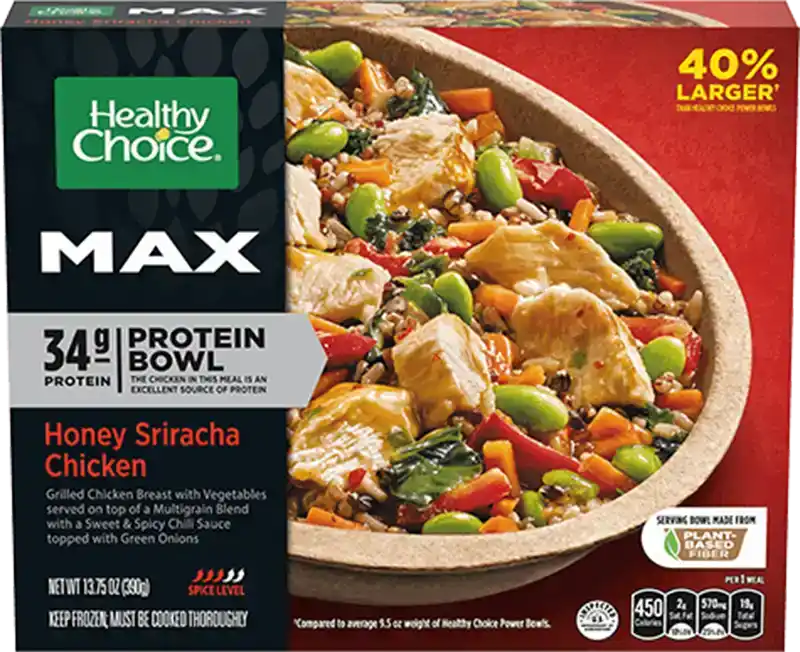 Calories: 450
Protein: 34g
Fat: 11g
Carbs: 53g
Sodium: 570mg
Takeaways For Choosing Frozen Meals for Weight Loss
Now that you know the key things to look for in a frozen meal for weight loss, is every meal of the day going to be a frozen meal? No. But it can be used for lunch or dinner paired with other easy options like a breakfast smoothie earlier in the day. Buying prepared will cut down cooking time in the kitchen by a lot 2-3 hours in a week.
When your schedule gets busy, remember Plans A, B, and C to stay on track with your weight loss and save money! If you need more guidance, schedule a free 20-minute call with me to discuss your goals and how I can help you.