Everyone knows that they should "eat right" for weight loss, wellbeing, health, prevention of diseases – you name it. With everyone's busy lifestyles these days, we're all looking for ways to boost our energy whether it be loading up on the caffeine or just getting more sleep. However, eating right also has a huge impact on energy levels. That's why I have partnered with Sunsweet Growers for their I Eat Right Because campaign.
Based on my experience, working with thousands of clients, most people claim that they don't have the time to eat and this can affect their energy tremendously. I myself eat right for energy, so I recommend my clients do the same. However, what does it mean to eat right for energy? I have created three eating principles that I have been using for years and recommend to all of my clients to keep them energized and I want to share them with you:
Eat breakfast within at least 90 minutes of waking. Breakfast drives your entire day by jump-starting your metabolism, boosting your performance and helping with clear thinking and concentration. A good example would be my overnight oats with prunes recipe.
Do not skip meals. In general, you should eat every 3-4 hours to control your blood sugar and keep your energy going. Also, snacking helps you control hunger which prevents you from overeating at the next meal. Overeating has the tendency to make you feel sluggish. Therefore, snacks may be necessary between meals.
I love using prunes as snacks because they are real fruit that provide amazing health benefits from supporting bone health to heart health and digestive health. They also have no added sugar and they have a low glycemic index, which means prunes can help keep you feeling full.
Some good snacks for between meals that I recommend are 5 prunes with 1 ounce of parmesan cheese and 5 prunes with 4 walnuts.
At every main meal, combine carbohydrates, protein and fats. This gives you the optimal blend of nutritional elements to fight cravings, control hunger and yes, gain energy.
I have made a delicious Prune-Infused Pork Stir Fry which has lean protein from pork loin, with plenty of colorful vegetables all cooked in heart healthy canola oil and can be served with a good carbohydrate like brown rice.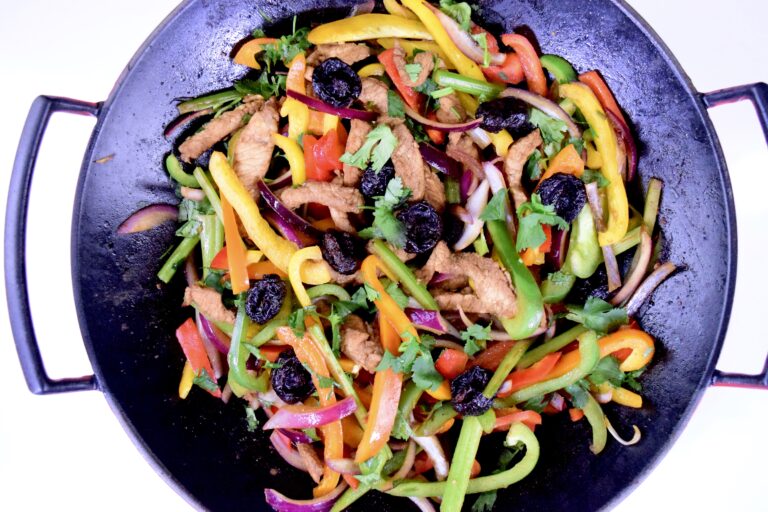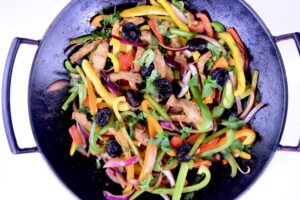 Prune-Infused Pork Stir Fry
Serving Size: 2 cups | Servings: 5
INGREDIENTS:
1/2 cup Sunsweet Amaz!n prune juice
1.5 lbs pork tenderloin, cut into strips
2 tablespoons canola oil, divided
4 bell peppers, assorted colors, sliced
1 medium red onion, sliced
1 clove garlic, minced
2 sticks celery, sliced
1 tablespoon chili paste
2 tablespoons balsamic vinegar
3 tablespoons low-sodium soy sauce
2 teaspoons ground cumin
1 cup Sunsweet Amaz!n prunes
1 cup cilantro, chopped
Salt and pepper to taste
DIRECTIONS:
Marinate pork in prune juice at least one half hour.
Heat wok or medium skillet on high heat. Add oil and remove pork from marinade. Add the pork to the pan and cook for 3 minutes. Discard marinade.
Once cooked, put pork aside. Add the second tablespoon of oil to the wok or skillet and then add the peppers, onion, garlic and celery. Cook for one minute.
Return pork to skillet or wok. Add chili paste, balsamic vinegar, soy sauce and cumin. Cook for another two minutes.
Remove from heat. Add prunes and cilantro. Stir well and serve.
Per Serving: Kcal 325, Protein 30 g, Carb 31 g, Fat 9 g, Sodium 93 mg, Dietary Fiber 5 g,
Daily Values: Fiber 18%, Vitamin C 137%, Vitamin A 0% Vitamin D 0%, Potassium 23%, Calcium 3%, Iron 12%
For more recipes on ways to eat more prunes, visit sunsweet.com.
Disclaimer: Manuel Villacorta, M.S., R.D., is a spokesperson/ambassador for Sunsweet and is paid for services which include, but not limited to, photography, videography, recipe development, social media promotion and online contributions.
– "I only represent companies that I truly believe in their mission and love their products. I use them often myself as they are the best, nutritionally foods available. All the opinions expressed this article or video are my own" – Manuel Villacorta.