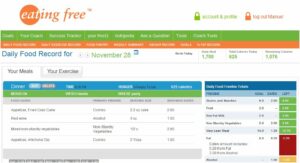 One of the best, most effective features of the Eating Free recordkeeping program is that you are able to enter foods you plan on eating in advance.  That way, you can see what's left over in your weekly summary and plan to eat accordingly.  For example, you can enter what you know you're going to eat later tonight at a party, and then, for the remainder of the day, eat based on what freebies are left.
Also, if you know in advance that they're going to serve pizza at next Tuesday's meeting, you enter how much pizza you plan to eat for Tuesday, look at what foods you have left in your summary, and eat lighter on the days leading up to the meeting.  This way you're able to enjoy that pizza without guilt!
You can also check out your daily summary to see which freebies you have left for the day.  Use this information to choose foods for your remaining meals and snacks, and stay on track with your weight loss goals.
The key here is to be consistent, accurate, and honest in your recordkeeping so that you get a clear picture of where you are with your diet at any given moment.  Skipping days or entering information partially or incorrectly will not tell you how you're really doing.  No one is judging you.  Be precise and truthful to achieve the greatest success with the program!
To Do Today:
Think about some foods that you anticipate eating over the next few days, and practice pre-entering them into the online recordkeeping program.  You can always edit your entries later.  Practice will get you closer to mastering the program!