I have partnered with CocoaViaTM to share some fascinating new research about cocoa flavanols and how they can help promote heart health for the long term. And of course, I have a delicious recipe with CocoaViaTM Cardio Health Powder you'll simply love.
Did you know that for the first time in history, Americans 65+ will outnumber children under 18 by 2034? Americans are for sure living longer. That's why heart health is more important than ever before.
What Are Flavonols?
Flavanols are a select group of bioactive compounds found in different of foods including apples, grapes, tea and some berries.
Cocoa flavanols are bioactives found in cocoa that are clinically proven to promote cardiovascular and brain health for the long term. They support strong heart and better memory.
What Are Bioactives?
Bioactives are not essential nutrients, but are components in foods that may be important to promoting our overall health.
What are the Benefits of Cocoa Flavanols?
Because flavanol levels vary dramatically in foods, taking a daily cocoa flavanol supplement in either powder or capsule form like CocoaViaTM is an option. It is an easy and convenient way to incorporate cocoa flavanols into your diet.
Research About Cocoa Flavanols
Initiated and led by investigators from the Brigham and Women's Hospital, an affiliate of Harvard Medical School, the COcoa Supplement and Multivitamin Outcomes Study (COSMOS), is the largest trial ever conducted on a flavanol bioactive. This landmark study involved 21,000+ participants and took place over a span of five years, investigating the impact of cocoa flavanols on cardiovascular health in generally healthy older adults.
The first COSMOS findings (recently released in The American Journal of Clinical Nutrition) demonstrated that supplementation with 500mg of cocoa flavanols daily resulted in significant improvements in heart health outcomes.
Cocoa Flavanols in CocoaViaTM Products
All CocoaViaTM products are made with the proprietary Cocoapro cocoa extract – the same ingredient studied in the COSMOS trial – making this cocoa extract the most studied flavanol bioactive in the market today.
I don't know about you, but at my age of 54, this research gives me a strong reason to keep using this cocoa flavanol-abundant powder.
So, to reap the health benefits of cocoa flavanols, I'm going to make a delicious Cocoa Blueberry Smoothie Bowl with 1 recommended serving (a full scoop) of CocoaViaTM Cardio Health Powder.
Cocoa Blueberry Smoothie Bowl with CocoaViaTM Cardio Health Powder
There are so many different smoothie bowls out there that may taste great, but you can make this one at home and it provides 500 mg of cocoa flavanols in each recommended 1 scoop serving to add to the benefits.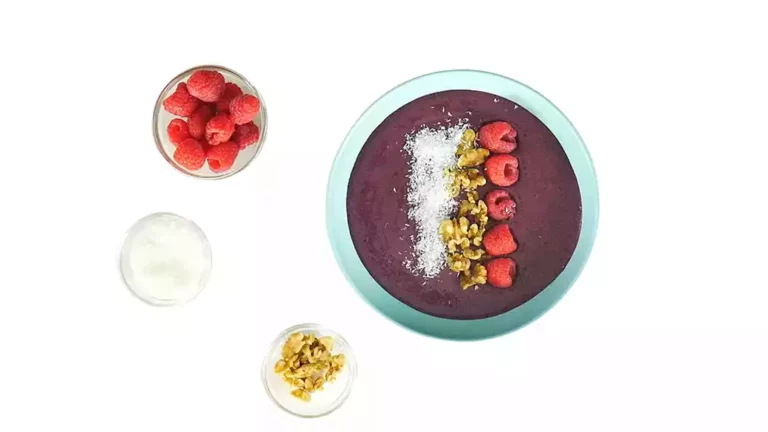 Cocoa Blueberry Smoothie Bowl with CocoaVia Cardio Health Powder
This cocoa blueberry smoothie bowl is absolutely delicious and packed with cocoa flavanols from CocoaViaTM Cardio Health Powder.
View the Recipe
Now it is your turn to optimize your cocoa flavanol intake and make this amazing smoothie bowl. Try my other delicious recipe, Chocolate Peanut Butter Overnight Oats with Cocoavia Cardio Health Powder. For more information visit Cocoa Via's site.