These chocolate peanut butter overnight oats are a breakfast option you'll look forward to any morning. Plus, they are supercharged with CocoaViaTM Cardio Health powder to add powerful cocoa-based flavanols.
I have partnered with CocoaVia to share this recipe and the benefits of CocoaViaTM Cardio Health powder.
Breakfast is an important part of the day. Not only does a balanced meal start you on the right track, but it's also an opportunity to meet a good portion of your daily nutrient needs. Aiming to have carbohydrates, protein, and fat at each meal can help meet these main food groups. That's why I love these chocolate peanut butter overnight oats as a go-to option for mornings. It checks all these boxes and can also be tailored to your taste preferences.
How to Balance Your Meals
When you're thinking of the foods to eat each day for a balanced eating pattern, you should be targeting:
Fruits
Vegetables
Grains
Protein Foods
Dairy or Dairy Alternatives
And of course, don't forget the occasional sweet treat. We have the five main food groups, but there are other foods you likely eat often that aren't quite in those categories. Healthy treats like dark chocolate are a simple example.
Overnight Oats as Part of a Balanced Diet
In this recipe, we target 4 of the 5 main groups.
Fruits = blueberries
Grains = oats
Protein Foods = peanut butter, Greek yogurt, milk
Dairy or Dairy Alternatives = Greek yogurt, milk
Plus, there's the bonus of the flavanols from the cocoa extract powder.
Whole Foods & Supplements
When each of these food groups are met consistently, you're setting yourself up for success by reaching your target nutrient needs. It will help you have more energy, a good memory and benefit your heart and gut health.
But while whole foods are the most important aspect of a balanced diet, supplements can also play a valuable role. None of us are perfect, so even when we're targeting the main food groups, sometimes a little boost of nutrition can help to fill gaps.
Benefits of CocoaViaTM Cardio Health Dark Chocolate Powder
CocoaViaTM Cardio Health is a delicious dark chocolate flavor, cocoa extract powder (also available in capsules) with no added sugar. It's a high-quality product backed by 20+ years of scientific research, 30+ clinical studies, and 150 scientific papers. Per serving, it contains 500 mg of cocoa flavanols, which is up to 24x more than regular cocoa powder. These flavanols are powerful circulation boosting bioactives that can help promote overall health.
Plus, CocoaViaTM Cardio Health improves blood flow to deliver more oxygen and nutrients throughout your body from day one. It's a great addition to your routine if you're trying to be more active and focusing even more on your health this year.
If you're a chocolate lover like me, this powder is going to be one of your new favorites.
How to Make Chocolate Peanut Butter Overnight Oats
This simple overnight oats recipe is a great one to start with to maximize the benefits of CocoaVia. They only take 10 minutes to prepare before they go in the fridge.
Gather your ingredients, mix them together, and separate the portions into the 4 mason jars. Then, put the mason jars in the fridge for 4 hours or overnight. You'll have 4 different breakfasts already prepared for the week!
These chocolate peanut butter overnight oats are high protein with the added benefits of CocoaViaTM Cardio Health powder.

Chocolate Peanut Butter Overnight Oats with CocoaVia Cardio Health Powder
Print Recipe
Pin Recipe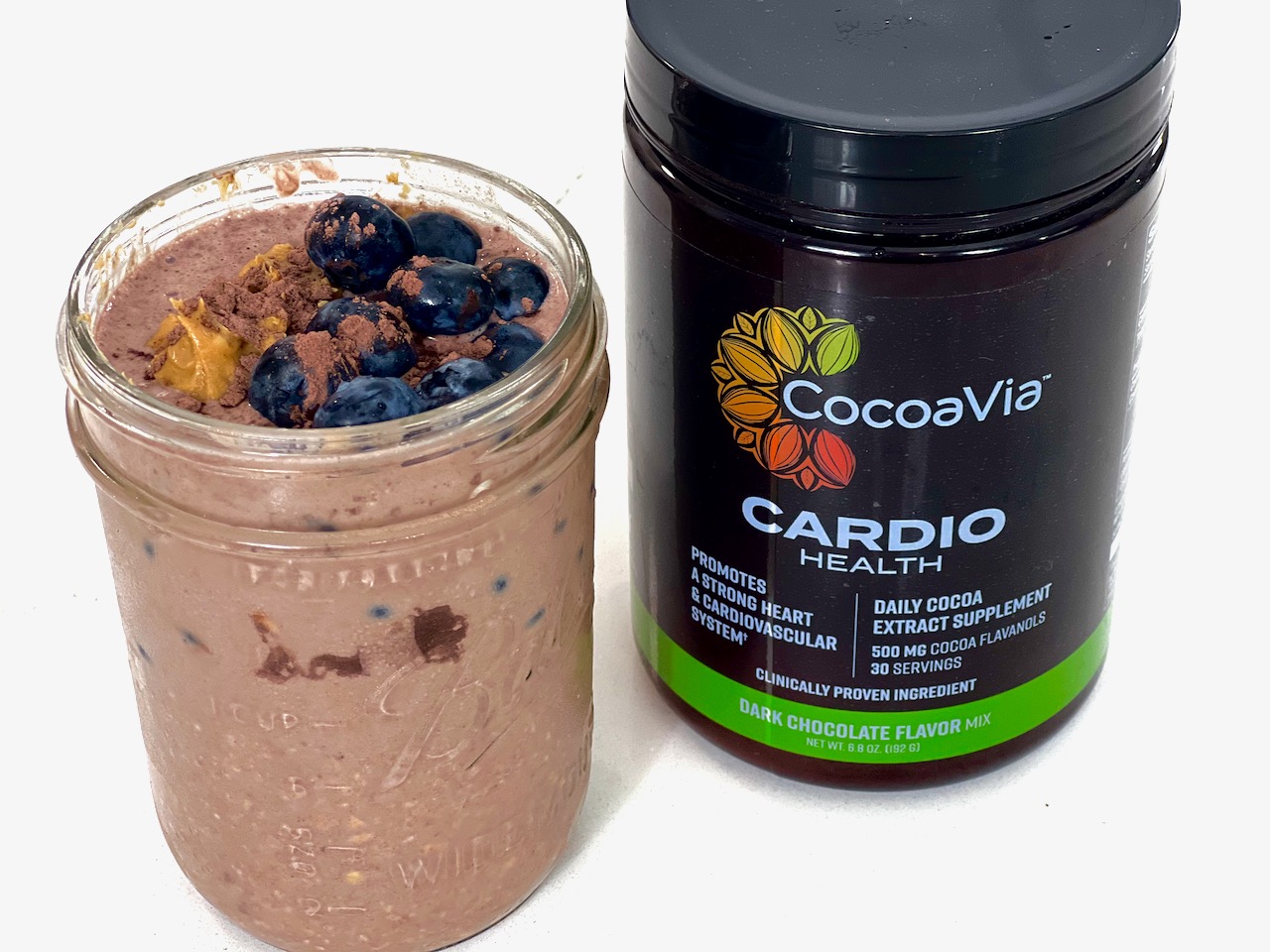 Equipment
Large bowl

4 12-oz jars

Refrigerator
Ingredients
1

cup

quick 1-min dry oats

2

cups

2% Greek yogurt plain

2

cups

1% milk

4

scoops

CocoaVia Cardio Health Dark Chocolate powder

3

tablespoons

chunky peanut butter

⅛

teaspoon

sea salt

2

tablespoons

honey

1

tablespoon

cinnamon powder

2

cups

blueberries
Instructions
Add all the ingredients in a large bowl and combine well

Equally divide the ingredients over 4 (12- fluid ounces) jars. Using a spoon stir all the ingredients within each jar.

Allow oats to soak at least 4 hours or overnight in the refrigerator.
Video
Nutrition
Nutrition Facts
Chocolate Peanut Butter Overnight Oats with CocoaVia Cardio Health Powder
Amount per Serving
% Daily Value*
* Percent Daily Values are based on a 2000 calorie diet.
I love this recipe because it has a healthy balance of quality carbohydrates, protein, and fat, and an added boost of cocoa-flavanols. You'll feel satisfied for hours after eating and be benefiting your overall health. It's a perfect recipe to fall back on for any of your weight goals!
Use my exclusive coupon code, Manuel20, to save 20% today!
Explore Another Healthy Breakfast Recipe
Try my Walnut Breakfast Parfait for another delicious breakfast featuring cocoa flavors.