This pasta with salmon recipe from my book is a balanced dish to help you control your blood sugar levels and reach your weight goals.
I'm excited to share a recipe from my NEW book, Prediabetes Weight Loss Solution: Reverse Your Diagnosis and Reclaim Your Health. More than 1 in 3 Americans has prediabetes. And of those with prediabetes, more than 80% don't know they have it. 80%.
If you have been diagnosed with prediabetes, or know someone who has, this is the new go-to resource to reduce risk of diabetes with a complete weight loss plan and 50+ recipes.
Why I Wrote the Book
Well after 20 years of counseling people for weight loss, I've seen time and time again that one of the biggest barriers they have is insulin resistance. When you have prediabetes, your body doesn't metabolize glucose correctly.
This leads to fat gain, and the more fat you have around your waistline, the more insulin resistant you become. This then makes it more difficult to lose weight, and it's a vicious cycle. So, it's important to understand the basics, like macronutrient composition, and build from there.
Why I Love This Pasta With Salmon
I love this recipe because in just 1¼ cups and for less than 340 calories you get 28 grams of protein, 6g of fiber, and less than 40g of carbs for blood sugar management.
Recipes like this can help you take control of your blood sugar and take the right steps to address your insulin resistance.

Fusilli Pasta with Salmon and Lemon Caper Sauce
Print Recipe
Pin Recipe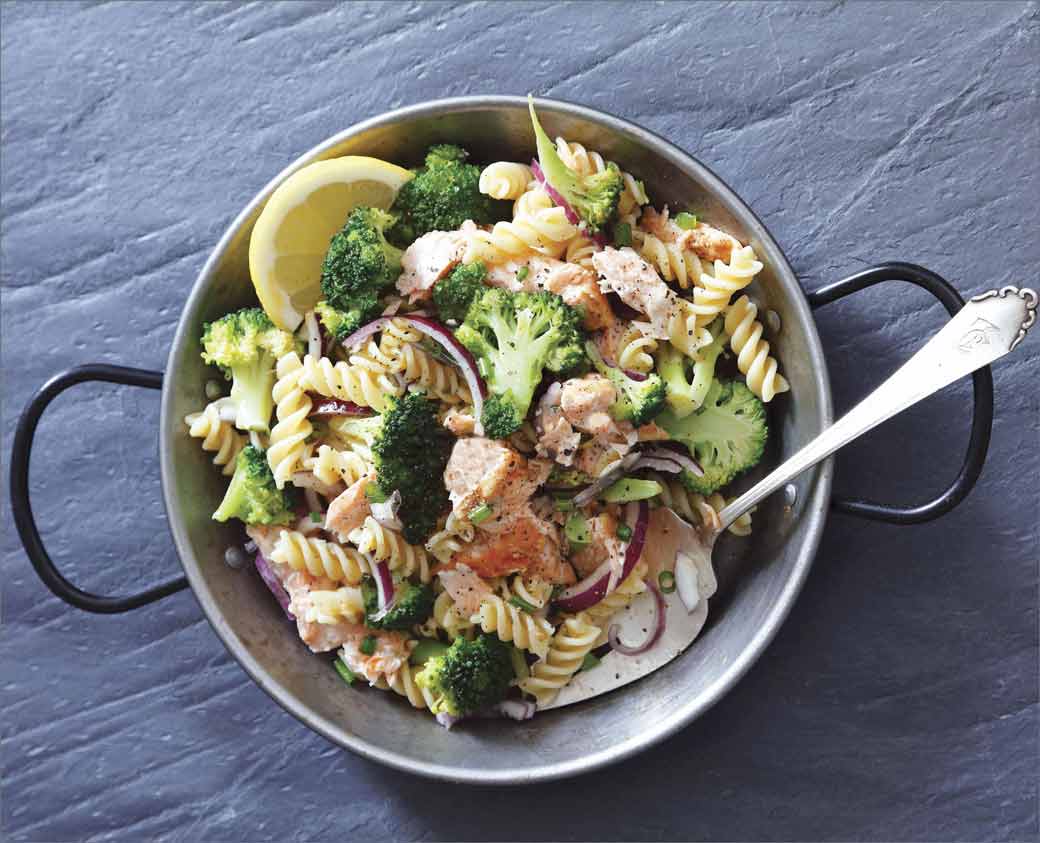 Equipment
Large pot

Oven

Baking sheet

Medium skillet
Ingredients
8

ounces

high-fiber high-protein fusilli pasta

Nonstick cooking spray

1

pound

skinless salmon fillet

1

teaspoon

sea salt

divided

1

tablespoon

extra-virgin olive oil

1

small

yellow or red onion

sliced

1

tablespoon

minced garlic

1

pound

frozen broccoli florets

thawed

1½

cup

Greek yogurt 2 percent, plain

¾

cup

low-sodium chicken broth

3

tablespoons

freshly squeezed lemon juice

1

tablespoon

mustard

1

tablespoon

capers

¼

teaspoon

freshly ground black pepper

¼

cup

chopped fresh parsley
Instructions
Bring a large pot of water to a boil over high heat. Cook the pasta according to package instructions until al dente, about 12 minutes. Drain and set aside.

Preheat the oven to 400 degrees Fahrenheit. Cover a baking sheet with foil and spray it with nonstick cooking spray.

Place the salmon on the baking sheet and sprinkle with ½ teaspoon of salt.

Bake for 12 minutes, or until the fish flakes when pressed with a fork. Cut the salmon into 2-inch cubes and set aside.

Heat the oil in a medium skillet over medium-high heat. Sauté the onion and garlic for about 3 minutes until softened.

Add the broccoli, yogurt, broth, lemon juice, mustard, capers, remaining ½ teaspoon of salt, and pepper, and cook for 5 minutes until warmed through.

Add the fusilli, salmon, and parsley and cook for another 2 minutes, tossing to combine.

Serve.

Refrigerate leftovers in an airtight container for up to 3 days.
Video
Nutrition
Nutrition Facts
Fusilli Pasta with Salmon and Lemon Caper Sauce
Amount per Serving
% Daily Value*
* Percent Daily Values are based on a 2000 calorie diet.
Take charge of your prediabetes with Prediabetes Weight Loss Solution. Available on Amazon, with a release date of May 17, 2022.
Learn more about my other 7 books for your health goals.