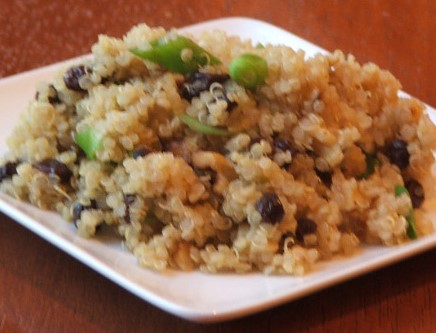 Guest blogger, Dr. Janet is a nationally recognized expert in the field of health, wellness and cardiovascular disease prevention and the best-selling author of three books on heart health. Janet holds master's degrees in both nutrition and exercise physiology and a doctorate in exercise physiology.
This recipe is from her second book: Prevent a Second Heart Attack, which combines several of the superfoods recommended in her books for both cardiovascular disease prevention and treatment.
SUPERFOOD QUINOA WITH WALNUTS AND CURRANTS
Serves 6
A Delish quinoa recipe with currants to sweeten it up a bit…YUM!
INGREDIENTS:
Rinse the quinoa in a fine-mesh strainer with cool running water before cooking to remove the saponin, a natural coating on the quinoa which can be an irritant to the stomach if not removed. Some quinoa is sold pre-rinsed.
1 cup quinoa, rinsed
2 cups reduced-sodium chicken or vegetable broth
1/4 cup dried currants
1/2 cup chopped walnuts, toasted
1/4 cup finely sliced scallions, green and white part (2 thin scallions)
DIRECTIONS:
In a saucepan bring the quinoa and broth to a boil. Add the currants, cover and reduce heat to low. Cook for 15 minutes. Turn off the heat, leave covered, and let sit for 5 minutes. After 5 minutes open the pan and lightly fluff the quinoa with a fork to separate the grains. Gently stir in the walnuts and scallion. Serve warm or at room temperature.
NUTRITION Per 1/2 cup serving:
Calories: 194
Fat: 8 g (0 g EPA, 0 g DHA, 1 g ALA)
Cholesterol: 0 mg
Sodium: 192 mg
Carbohydrate: 26 g
Dietary Fiber: 3 g
Sugars: 4 g
Protein: 7 g
The above recipe is an excerpt from Janet's book: Prevent a Second Heart Attack: 8 Foods, 8 Weeks to Reverse Heart Disease (Crown/Three Rivers, Feb 2011)