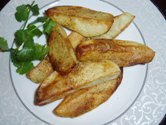 The french frie is one of my favorite ways of eating a potato. When we cook our french fries at home, we can alter the recipe so it's basically just like eating a healthy version of the baked potato. Check out this super simple way to prepare one of my favorite dishes.
Ingredients:
3 Russet potatoes (peeled and cut into slices)
Olive Oil Spray
Salt & Pepper to taste
Paprika to taste
Directions:
Preheat the oven to 450 degrees F. Place a piece of tinfoil over a baking sheet (to decrease the amount of cleaning). Place the potatoes on the baking sheet. Spray the olive oil over the potatoes. Sprinkle the salt, pepper, and paprika. Place in the oven for 40 minutes. Enjoy!!! It's that simple!
Sarah Koszyk, MA, RD, is a nutrition coach at Eating Free who cooks with love and loves to eat.