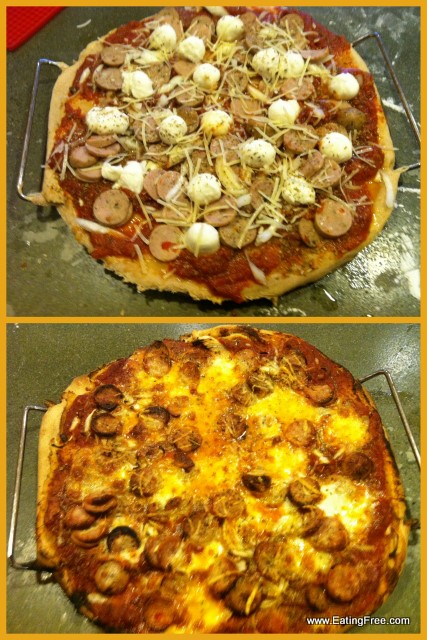 Last week I was inspired by my friend Jamie.  She invited me over for dinner and we had homemade pizza; it was delicious!  Then Eating Free coach Sarah Koszyk put up a post on Facebook about pizza topping and that was all it took for me to run to the store and buy the ingredients for my homemade pizza.   I have to tell you that it was a great success.  It was so easy to make and it is great when you can control the fat content and ingredients.  There is nothing like homemade pizza.
Ingredients:
Trader Joe's Wheat Pizza Dough, ready to bake (12″ inch pizza)
1 cup Classico Sundried Tomato & Olive spaghetti sauce  (any brand is ok but use low-fat and low sugar)
6 oz Fresh mozzarella cheese
¼ cup red onions sliced
2 Links Trader Joe's chicken sausages, sliced (any brand is ok. Each link has 6g of fat)
Directions:
Pre-heat that oven to 450 deg F and heat your pizza stone if you have one.   Place the dough on the hot stone or any other pizza pan.  Spread the sauce and add the toppings.  Bake for 8-10 minutes and Eat Free.  Enjoy!
4 Serving