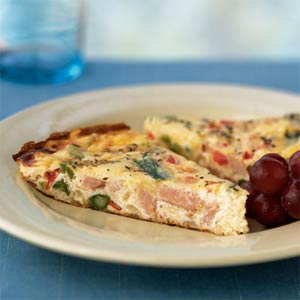 Ingredients
1/3 cup chopped 33%-less-sodium ham (3 ounces)
1/2 cup shredded low-fat Jarlsberg cheese (2 ounces)
¼ tsp black pepper
1/8 tsp salt
3 large egg whites
2 large eggs
Cooking spray
1/2 cup finely chopped onion
1/2 cup finely chopped bell pepper
1/2 cup (1-inch) slices asparagus
1/4 tsp Italian seasoning
Directions
Preheat broiler.
Combine ham, cheese, black pepper, salt, egg whites, and eggs, stirring well with a whisk.
Heat a 9-inch nonstick skillet coated with cooking spray over medium-high heat.  Add onion, bell pepper, and asparagus; sauté 3 minutes.  Add egg mixture; reduce heat to medium.  Cook, covered, 3 minutes or until almost set.
Sprinkle with ¼ teaspoon Italian seasoning.  Wrap handle of pan with foil; broil 3 minutes or until egg is set.  Cut into 4 wedges.
Yield: 2 servings (serving size: 2 wedges)
Freebies: 4.2 Meat, 1 NSV, 1.8 Fat
Calories 251 (33% from fat); Fat 9.2g (sat 3.4g); Protein 31.3g; Carb 9.6g; Fiber 2g; Cholesterol 247mg; Sodium 791mg; Calcium 373mg
Recipe from www.CookingLight.com