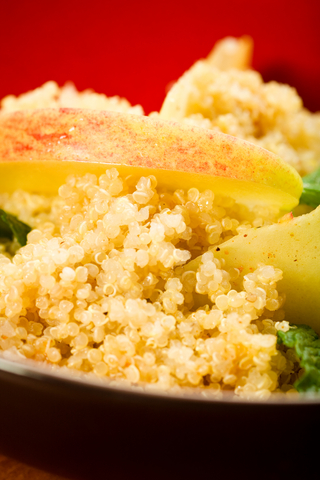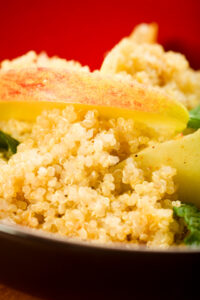 Ingredients
2 TB coriander seeds
3 TB cumin seeds
1 TB cup dried hot red pepper flakes
2 tsp turmeric
2 tsp ground ginger
1 tsp black peppercorns
1 TB cardamom
1 tsp. whole cloves
2 tsp. cinnamon
2 c. cooked quinoa (approximately 1 c. dry)
2 TB finely ground fresh ginger
½ c. major grey chutney (can find at the grocery store)
1 bunch green onions
24.000 oz. Azumaya Lite Tofu
2 TB grated lime peel
2 TB olive oil
FREEBIES: 2 Meats, 1 Fruit, 2.5 Grain & Starch, 1.8 Fat.  Calories: 270, Carbs: 38g, Fat: 9g, Protein: 15g, Fiber: 6g
Instructions:
Use half of the spice mixture, 2 TB fresh ginger and chutney to marinate the tofu in a Ziploc bag for 2-3 hours.
Sear tofu in hot non-stick pan with olive oil until crispy and firm.
Toss remaining spices into HOT quinoa mixture. Add green onions and lime zest.
Serve:
½ c. quinoa with 6 oz. tofu. Garnish with lime wedge and sprig of cilantro. Serve with any fresh green vegetable.
By Chef Traci Higgins