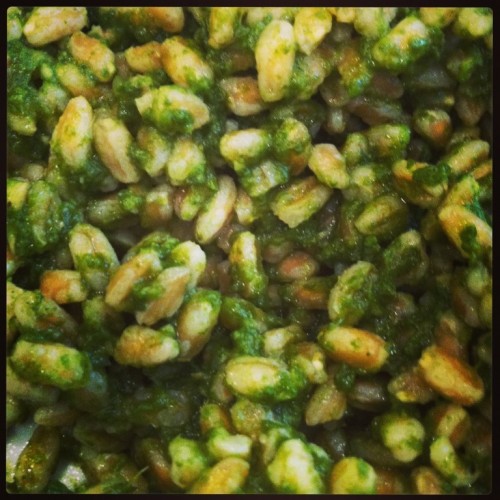 Farro has been a staple grain of the Mediterranean and Near East for thousands of years. Because farro is more difficult to grow and provides a lower yield than most grains, it lost popularity through the centuries. However with the resurgence of whole grains and health-conscious eating, this chewy and delectable grain has been making a comeback! Farrow is an excellent source of complex carbohydrates, providing twice the protein and fiber of common wheat.
Farro with Spinach-Basil Pesto
Serves 6
Ingredients:
2 cups farro, dry
2 Tbsp olive oil
1 small yellow onion, diced
4 cloves garlic, minced
¾ cup stock (chicken or vegetable)
1 bunch basil, fresh
3 cups spinach
Salt to taste
Equipment:
Medium stockpot
Colander
Medium sauté pan
Blender or food processor
Directions:
Fill a medium stockpot half full with water (about 8 cups of water is sufficient). Bring water to a boil over high heat. Add farrow and reduce heat to a simmer. Simmer farro until al dente, about 15 minutes. When done, drain farro into a colander as you would pasta. Rinse with cool water to stop the cooking process.
While the farro is cooking, make the pesto sauce. Place oil in a medium sauté pan and heat over medium-low. Add onion and garlic. Cook until soft and fragrant, about 5-10 minutes.
Place sautéed onion and garlic along with basil, spinach and stock into a food processor or blender. Process until smooth. Pour pesto sauce into the same pot you used to cook the farro. Cook over low heat for 15 minutes until thickened.
Add cooked farrow and cook until heated through. Season with salt to taste.