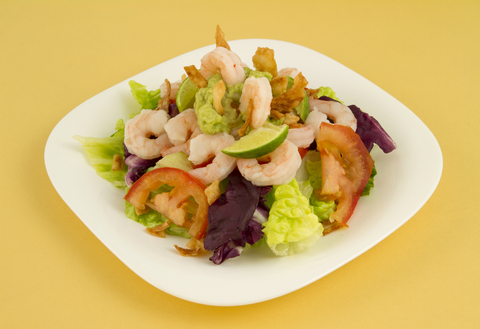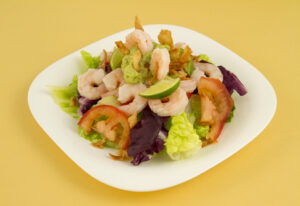 Ingredients
1 1/2 pound medium shrimp, peeled and deveined
1 1/2 tsp. salt, divided
2 c. fresh or frozen corn kernels, thawed (about 2 ears)
1 c. finely chopped onion
1 c. chopped fresh cilantro
1 1/2 pound lump crabmeat, drained and shell pieces removed
2 jalapeño pepper, seeded and chopped
½ c. fresh lemon juice
1 ½ TB extra virgin olive oil
18 cups torn Boston lettuce (about 3 small heads)
1 c. flaked sweetened coconut, toasted
FREEBIES: 4 Meat, 1 G&S, 1 NSV, 1 Fat 2 Calories: 309, Fat:10g, Carbs: 26g, Fiber: 5.1g, Protein: 32.5g
Preparation
Heat a medium nonstick skillet over medium-high heat. Coat pan with cooking spray. Add shrimp and 1/4 teaspoon salt; cook 4 minutes or
until shrimp are done, turning once. Remove from the pan. Coarsely chop shrimp.
Combine corn and the next 5 ingredients (through jalapeño) in a medium bowl. Gently stir in the shrimp. Combine juice, oil, and remaining
1/4 teaspoon salt, stirring with a whisk. Drizzle juice mixture over shrimp mixture; toss gently to coat. Divide lettuce among each of 6
plates; top with shrimp mixture. Sprinkle evenly with toasted coconut.
Yield: 6 Servings