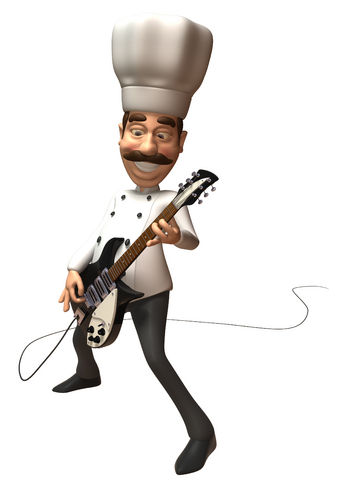 Do you listen to music when you are working out to inspire you? Well do the same when you are cooking and your food will come out delicious.
Food is like music. It should be relaxing, refreshing, and nourishing. Just like the music you love, it should inspire and move, exhilarate and excite. Flavors, colors, and smells should intermingle on your palate and raise the senses. Cooking is like playing an instrument. It requires practice and respect; patience and a willingness to learn, make mistakes, try again, and master.
As a registered dietitian, I recommend healthy recipes and cooking techniques to all my clients. I recently had a client who tried a simple recipe of pasta with sauce. He returned to my office, frustrated but proud, having failed at his attempt. "The pasta was cooked but the sauce wasn't ready. My sauce turned out bland." He laughed as he told me this story and we discussed trying again, starting the pasta later and adding herbs and seasonings. When it came down to it, he was happy that he at least knew exactly what was going into his body and created a meal by his own hands.
We are made exactly of what we put into our bodies, whether it be music or food. Cherish and indulge your senses by feeding your soul. Play music while cooking to inspire. Caress your foods like a beautiful instrument. Like I tell every single client, the best ingredient is to cook with love!