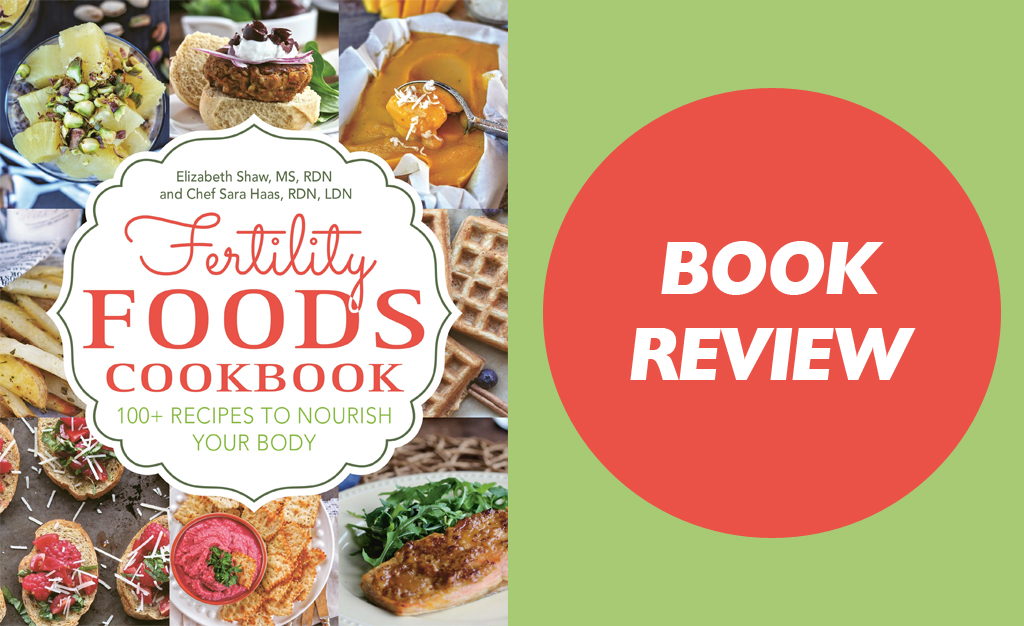 Infertility is a frustrating, emotional and downright terrifying experience according to dietitians Elizabeth Shaw, MS, RDN and Sara Haas, RDN, LDN as they had both struggled with it. Thereby, they collaborated to author Fertility Foods Cookbook. The first of its kind, it's not only a warm and extremely helpful book with over 100 recipes, but full of science-based tips and advice written a way that you can feel the love and empathy of the two women as you read it. After all, they had been there themselves.
Fertility Foods Cookbook is so much more than a cookbook. What I loved the most is that Liz and Sara spend a large part of the book educating the reader about their bodies, food groups and how to feed one's body for health in what they call a "nutrition-course" because as they say "they can't be there to cook for you everyday!" They also include helpful tables of nutrients essential for fertility, what foods you find them in as well as portion recommendations and recipe suggestions to include these foods in your diet.
That being said, it's important to note that the book isn't JUST useful for women trying to get pregnant. I, as a registered dietitian, would also recommend it to anyone interested in fueling their body for optimal health. I would also recommend it to health professionals interested in how foods relates to fertility, because who knew full fat milk was better for fertility than low fat? This and many other fascinating gems of information make this book all the more valuable.
It is important to know that these two professionals do not attempt to "cure" or diagnose infertility, but they do feature specific foods known to promote fertility and provides the science behind these findings which makes the book all the more compelling.
The authors then include these ingredients with highlights of the foods' health benefits in their many delicious recipes sorted into breakfast, appetizers, and even desserts. Yep, you heard that right. One recipe that caught my eye is warm and features the superfood sweet potatoes is a Smoky Sweet Potato Chili.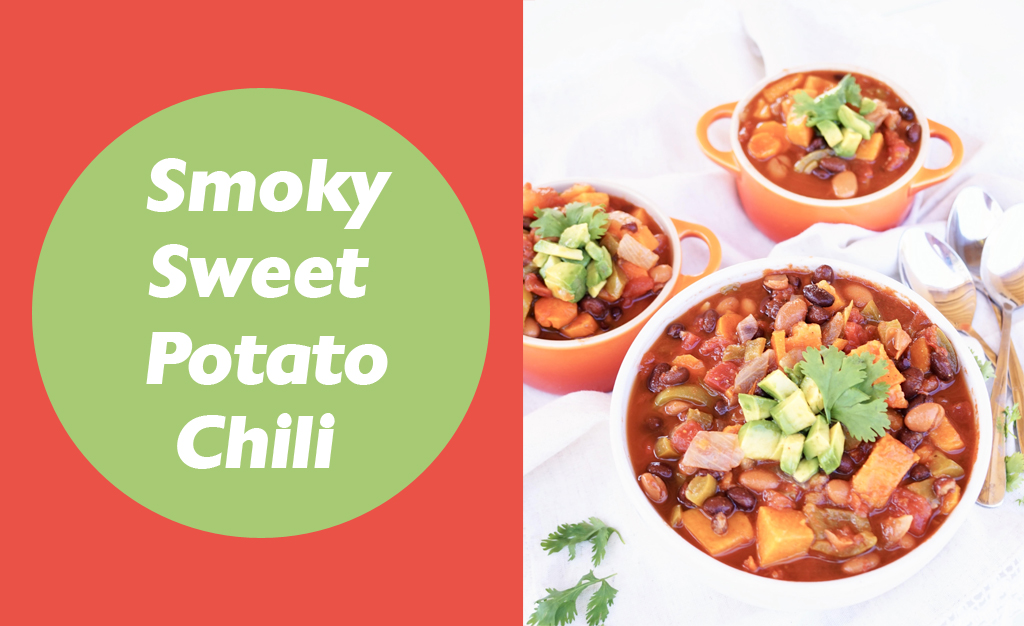 MAKES: 7 servings, 1 cup each
Gluten Free, Vegan
MyPlate: Vegetable, Whole Grain, Protein
Warm up with this smoky and slightly spicy vegan, gluten free chili.
Fertility Focus: Legumes are a great nutrient dense source of protein. By incorporating more plant based proteins in your diet, you'll be right on track with what research shows to boost fertility.
Ingredients
½ medium onion (4 ounces), finely chopped
2 cloves garlic, minced
1 small jalapeno, seeded and minced
2 medium (3 ounces, 1 cup) carrots, diced
1 (½ cup) green bell pepper, seeded and diced
1 medium (9 ounces) sweet potato, washed, skinned, diced into ¼-inch cubes
1 (28 ounce) can diced tomatoes, no added salt
½ cup water
1 teaspoon chili powder
2 teaspoon smoked paprika
1 teaspoon ground cumin
¼ teaspoon kosher salt
1 can (15 ½ ounces) no salt added black beans, drained and rinsed
1 can (15 ½ ounces) no salt added pinto beans, drained and rinsed
1 medium avocado, sliced (garnish)
¼ cup chopped cilantro (optional garnish)
Directions
Place the onion, garlic, jalapeno, carrot, bell pepper and sweet potato on the bottom of the slow cooker. Stir in the diced tomatoes, water, chili powder, paprika, cumin and salt. Set slow cooker to LOW, cover and cook for 3 to 4 hours.
Add the rinsed and drained pinto and black beans 10 minutes prior to serving.
Before serving, garnish with sliced avocado and chopped cilantro.
Variation: For a vegetarian version, add 1 tablespoon of Chipotle Dressing to finish dish.
Storage: Refrigerate in a sealed container for up to 4 days. Freeze for up to 3 months.
Kitchen Tip: Wash sweet potatoes by using a paper towel under running water. Rub until debris and dirt is removed.
Recipe and photos by Elizabeth Shaw, MS, RDN and Sara Haas, RDN, LDN from Fertility Foods Cookbook.