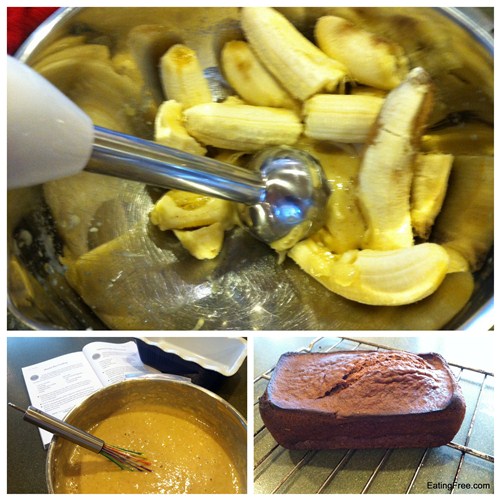 Find many more great recipes and sample menus in the Eating Free book!
Banana bread is a traditional favorite. By substituting agave nectar for sugar and applesauce for oil, you can enjoy this sweet treat with less sugar, less fat – and no guilt. Your children will love it!
3 medium bananas, ripe
1/2 cup agave nectar
1/2 cup applesauce
1 teaspoon vanilla extract
2 eggs, raw
1 teaspoon baking soda
1 teaspoon baking powder
1 teaspoon salt
2 cups flour
1. Preheat the oven to 325 degrees F. Place the bananas in a large bowl and mash with an electric mixer. Stir in agave nectar and let stand for 15 minutes. Note: Because agave nectar has a lower glycemic index than sugar, less agave nectar is used  and it browns sooner, which is why the bread is baked at a lower temperature for a longer time.
2. Add the applesauce and eggs and beat well. Add the remaining ingredients and mix thoroughly. Pour into a 9″ x 5″ loaf pan coated with nonstick vegetable spray. Bake for about 75 minutes, or until a wooden toothpick inserted in the center of the loaf comes out clean. note: every oven is different, so total baking time may vary. Use a toothpick at 60 minutes to check doneness of bread.
3. Remove from the oven and let stand for 10 minutes before removing from the pan. Cool on a wire rack.
Calories: 120; Fat: 1g; Protein: 2.7g; Carb. 26g; Fiber 1g; Sugar 11.8 g
Freebies: 1 G&S; 0.4 Fruit; 0.4 Sugar
Find many more great recipes and sample menus in the Eating Free book!