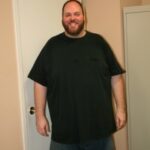 Apparently I have food baggage.  I know, I know…it seems obvious to any outsider looking in that the fat guy has food issues, but learning this about myself definitely caught me by surprise.  Now that I'm actually trying to control what finds its way into my belly, I'm finding that certain food situations intimidate me.  Recently I obsessed about a party for a few days before I attended; I was dreading showing up there and being tempted to eat stuff I shouldn't be eating.  I almost didn't go. A little mind-over matter empowerment got me through (thanks to Michael Purdy @ Subject To Change for assistance), but I still find every few days I'm in some sticky spot where I'm challenged more by the SITUATION rather than just a craving.  I'm talking about free food in the office, the obvious temptations that present themselves at happy hour, and other social eating situations like eating out, parties, or visiting friends houses.
On my own I've already figured out a few ways to avoid or overcome these situations, but I was pleased when I mentioned it to Sarah @ Eating Free and she gave me a handout full of tips to avoid difficult food situations.  Some of it is obvious stuff, like keeping the bread plate across the table from you, and putting leftovers away immediately so you don't graze.  But some of it was quite inspired, such as thwarting donuts at morning meetings by having a full breakfast at home, or brushing your teeth right after dinner to reduce the urge to snack further.  These tips (there were over 4 dozen on the handout) are helping me continue to think outside the box when meeting food challenges.
My old achilles tendon injury from last year flared-up a bit this week, so luckily it was well-timed with my "rest" week with my fitness program at DIAKADI.  Apparently my workouts will come to me in six week programs, and the final week will be a rest week where I do fewer reps of everything in preparation for the start of next week's new program.  I suppose this makes sense, since the new program should challenge new muscles (or challenge previously-worked on muscles in new ways).  Billy was out of the gym this week so it was a good week for me to work out on my own.  I found this much less intimidating than three week's ago when Billy was also out for the week.  I suppose that means I'm pretty comfortable at the gym.
Due to my tendon pain, I took it a little easy with my recreational exercise this week.  My friend Andrew and I went to the beach again to fly his kite, but this time we took the bus to a point much closer to the part of the beach we wanted so I wouldn't have to walk as much.  We still enjoyed a nice walk down the hill from the park at the end of Geary to the beach just below the Cliff House.   Today we checked out the How Weird Street fair (on Howard Street) and while it wasn't a lot of walking, there was a lot of standing, and that was hard on my tendon, but I got through it.  I'd never been to the How Weird Fair before, and while interesting, it just wasn't weird enough for me.  I expected costumes and looks that rivaled Burning Man and Halloween.  I guess as a 10 year San Franciscan and a comedy writer/performer, I have high standards for weirdness.  Go figure.