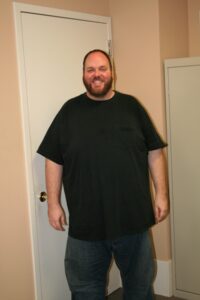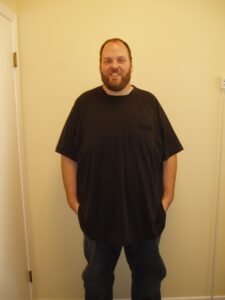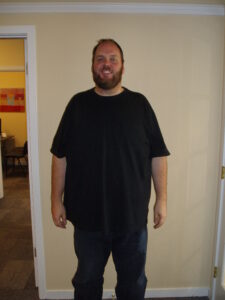 I gained some weight this week.  And I knew it was going to happen.  "Tomorrow's going to show a weight gain, and I totally deserve it," I said to Billy @ DIAKADI, the day before my weekly weigh-in.  Sometimes after a big drop, I get kinda cocky and I'll indulge.  This week was one of those weeks. Not that "living a little" is a bad thing, but I would say I "lived a lot' this week.  So the scale showed a 1.8 pound increase.
Not the biggest deal, actually. A lot of people don't realize this, but even though I've averaged over 2.5 pounds per week of weight loss, for 33 weeks, I've had several weeks where I've gained weight.  In fact, this was my SEVENTH week showing a gain since I started losing weight in March.  But because of all the skills I've learned from "Eating Free," I know what I need to do to "reel it in" for next week and get back on track.
In other news, I've had some issues with my left hamstring since spring, so I've been seeing a massage therapist named Joel Banuelos that Billy recommended to me several months back.  Joel and Billy have both done some great work on my hamstring problem (which also affects my knee).  Billy's been customizing my workouts so that my hamstrings get good stretches, and we've worked on other related issues like balance and strengthening muscles in and around the effected areas.  I've been very grateful for Joel's and Billy's help and particularly impressed that they talk to each other about what they've observed and experienced with my hamstring/knee, so they're both working on my problem together.  Billy has conveyed what he's seen my hamstring do when I'm "in action" and Joel has made recommendations that prompted Billy to make changes to my workout that should help improve this situation with my leg.
Joel works out of DIAKADI on Fridays, and in a convenient downtown location (close to Montgomery Station) on Mondays, Tuesday and Wednesdays.  Check him out!  His work is truly amazing.
Lastly…How about this gorgeous, late October San Francisco weather?  Knowing I'll be less inclined to go for walks after "winter" hits and after we switch the clocks back to Standard Time, I recently vowed to get a lot of extra walking in this month.  I've definitely succeeded with this goal; this week I walked home from work with my friend Matt, walked home from the gym on Thursday, and on the weekend I walked the Filbert Steps to the top of Telegraph HIll (again) with my friend Beth and also enjoyed a nice walk in the Presido with my friend Angie.  Here's a picture of me on Telegraph Hill.  It felt great to get out and enjoy the late summer weather before the November gloominess hits!