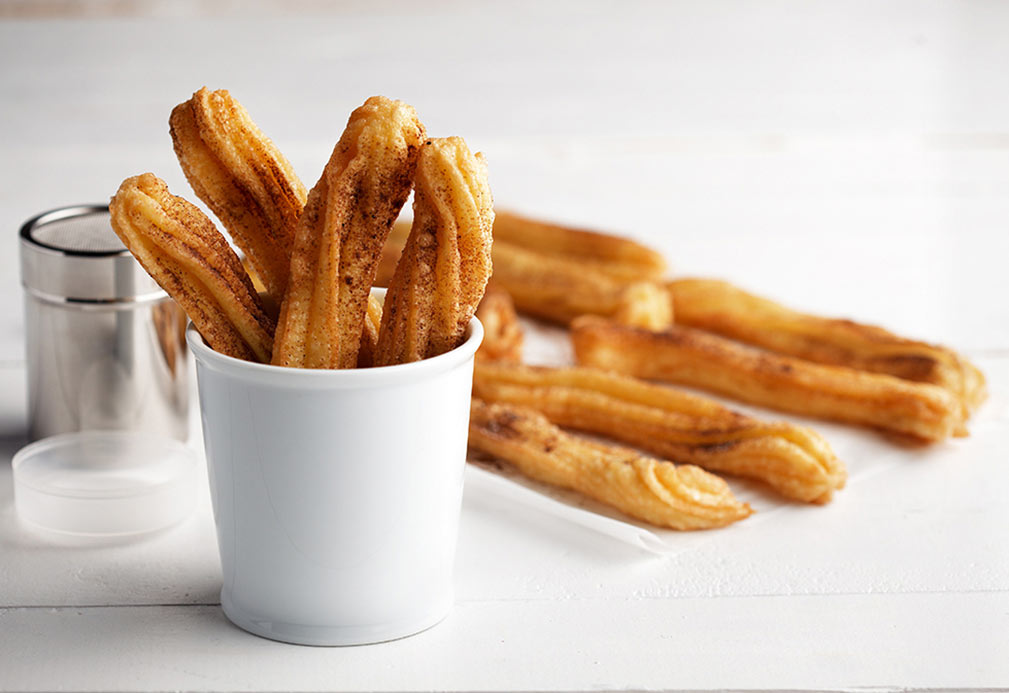 Winter is on its way and so are our favorite holiday treats. Some of us like to try new foods, while others stick to the traditional route. If you're not feeling too experimental this year but want to taste some new flavors, why not switch up the menu to someone else's tradition? Personally, I find anything served with hot chocolate as something worth considering and one of my favorite cocoa-sidekicks is the almighty churro.
A churro is a fried-dough pastry that is often sprinkled with sugar and cinnamon and served with a thick hot chocolate or café con leche. Churros are commonly presented at gathering of all backgrounds and in many different countries such as Mexico, Portugal, Spain, France, the Philippines, and the United States- to name a few. While this snack is undeniably delicious, we know the nutritional value isn't the highest of quality due to the amount of saturated fats. Nonetheless, the question remains- why deprive yourself of something so traditionally decadent during the holiday season when you can get creative with it instead? Treat you and your family to a dish of guilt-free Spanish doughnuts by substituting the butter and frying oil. This will significantly cut back the cholesterol and saturated fats, leaving you with a more heart-friendly dish.
Canola oil is one of the healthiest culinary oils in the world. It has the least saturated fat of all common oils – half that of olive oil – and is free of trans fat and cholesterol. Canola oil also has the most omega-3 fat of any cooking oil and is a good source of vitamin E.
The omega-3 fat and vitamin E duo helps to restore lipid balance within the body, thus enhancing brain health and fighting conditions like heart disease and diabetes.
Canola oil is extremely versatile. Its neutral taste, light texture, and high heat tolerance make it ideal for deep-frying dough, and in this instance, churros. You will not taste a difference when replacing the butter in the batter and the frying oil with Canola oil, making canola oil the perfect heart-healthy substitute for this tasty treat.
You can now 'have your churro and eat it too' with this heart-healthy churro recipe made with canola oil. But always remember, no matter how heart-friendly a food can be, always be mindful of your portions.

Churros with Spiked Chili Cocoa Sugar
Print Recipe
Pin Recipe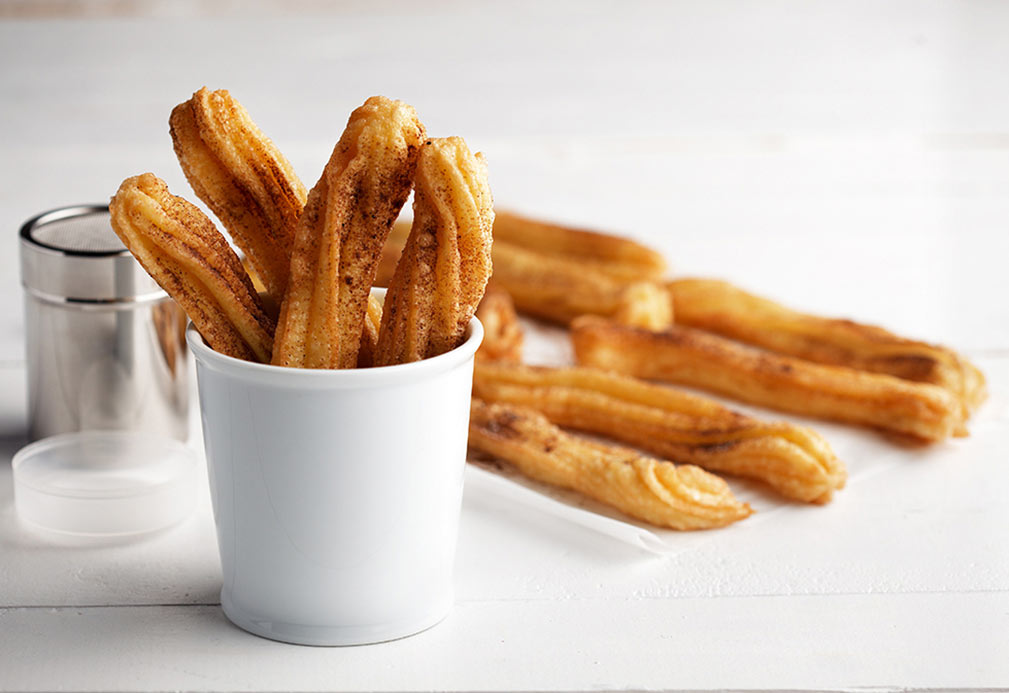 Equipment
Large saucepan

Deep fryer

Cake decorator tube with large star tip
Ingredients
1

cup

water 250 mL

½

cup

canola margarine 125 mL

¼

tsp

salt 1 mL

1

cup

all-purpose flour 250 mL

3

eggs

2 to 4

cups

canola oil 500 mL to 1 L

Chile-Spiked Cocoa Sugar

¼

cup

powdered or icing sugar 60 mL

2

Tbsp

cocoa powder 30 mL

1

tsp

chili powder 5 mL

Dash of salt
Instructions
In large saucepan, heat water and canola margarine over high heat, until mixture comes to full rolling boil. Immediately stir in salt and flour. Mix vigorously over low heat until mixture forms ball, about 1 minute. Remove from heat.

Beat in eggs one at a time and continue to beat until mixture is smooth. Meanwhile, heat canola oil in deep fryer to 350 to 375 ºF (180 to 190 ºC).

Spoon mixture into cake decorator?s tube, fitted with large star tip. Squeeze 4-5 inch strips of dough into hot canola oil. Fry 3 or 4 strips at a time, until golden brown in color. Turn during cooking time, about 2 minutes on each side.

Drain on paper towels and immediately shake chili-spiked cocoa sugar mixture over top.

To make cocoa sugar, sift all ingredients to together. Place in shaker.