This Valentine's Day show yourself or your loved ones some love by making this heart-healthy chocolate strawberry smoothie.
Don't forget that cards and gifts are only part of the equation for love – food should be included too! Plus, there are certain nutrients that are good for your heart! So here is a simple heart-healthy recipe with EO3 that only requires 3 simple ingredients!
I've partnered with Enhanced Omega-3 to share with you a delicious heart-healthy smoothie.
Heart-Health Benefits of This Smoothie
To make a smoothie that is good for your heart you want to focus on a few key things – omega-3s, antioxidants, and fiber.
EO3 contains all three, and really stands out since it contains all of your daily omega-3 needs. It also provides 20g of protein to make this a balanced meal.
This makes it the perfect base for my Chocolate Strawberry Smoothie! Strawberries add in heart-healthy fiber. And the cacao powder contains additional antioxidants that can support heart health.
How to Make a 3-Ingredient Chocolate Strawberry Smoothie
To make the smoothie, you'll simply mix together frozen or fresh strawberries, cacao powder, and EO3. Blend for nutrient-packed fuel for your heart!

Chocolate Strawberry Smoothie with EO3
Print Recipe
Pin Recipe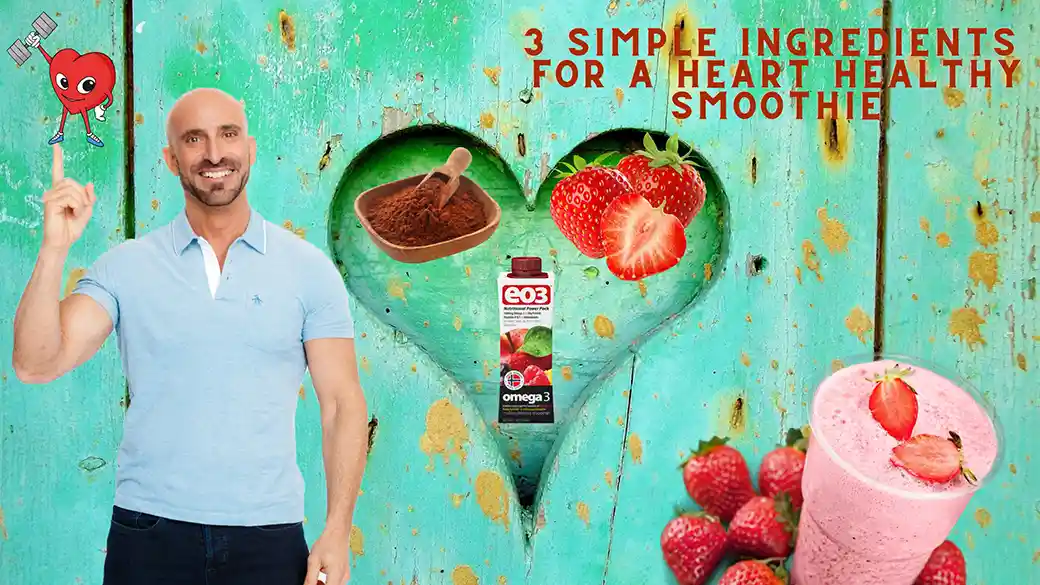 Ingredients
1

ready-to-drink carton EO3

6

strawberries

1

Tbsp

cacao powder
Instructions
Blend all ingredients together and enjoy. For a smoothie bowl, blend together, then top with sliced strawberries.
Feeling extra creative? Make this into a smoothie bowl and create a heart-shaped design in the middle with strawberries for a loved one.
You can enjoy this for breakfast, after exercise, or serve as a festive appetizer at a Valentine's Day party!
For heart health month, EO3 is offering 25% off!