With hearty butternut squash, a nutrient-rich medley of cheeses, protein-packed beef sausage, and a colorful mix of veggies, this cheesy pizza-inspired air fryer stuffed butternut squash recipe is a celebration of wholesome ingredients.
Do you love pizza? I'm guessing yes, because who doesn't? As fall approaches, it's time for a delicious, quick, and easy meal that's perfect for the season.
So I've partnered with National Dairy Council to bring you a Cheesy Pizza-Inspired Stuffed Butternut Squash for a fun fall-inspired recipe. It is loaded with veggies for a nutrient-packed dish you can feel good eating.
Recipe Base Highlight: Butternut Squash
First things first, let's talk about our base ingredient – the butternut squash. One of fall's favorite vegetables, this vibrant squash is rich in vitamins A and C, which are essential for immune health. It's also a good source of fiber.
By using the Air Fryer, we preserve its natural sweetness and create a tender, slightly caramelized base for our dish.
Benefits of Cheese
Cheese is the ingredient that brings this dish to life, especially with the combination of parmesan, cheddar, and mozzarella. This is a simple way to add calcium and high-quality protein to the dish. Calcium is essential for maintaining strong bones and teeth, while protein supports healthy body composition, muscle health, and an active lifestyle. Bonus, cheese also provides nutrients important to immune health – protein, vitamin B12 and selenium.
Get Creative with Pizza-Inspired Stuffed Squash
One of the reasons I love this recipe so much is that you can swap out the veggies and the protein for any of your favorites. For example, replace the chicken with Canadian bacon, and swap some of the veggies for other options like broccoli or artichokes.
How to Make Air Fryer Stuffed Butternut Squash
When the butternut squash is cooking in the Air Fryer, sauté the red onions, bell peppers, mushrooms, minced garlic, and oregano, then remove from the heat and mix in parmesan and cheddar.
Next, add the cooked sausage, which provides additional high-quality protein to complement the cheese for a satisfying meal. To make this meal vegetarian, simply replace the sausage with additional mushrooms.
Once the butternut squash is ready, add a layer of pizza sauce to the bottom. Then stuff it with the sauteed veggies, cheese, and chicken, and topped it with mozzarella.
Air Fry it for a few more minutes, and voila, you have cheesy pizza-stuffed butternut squash.

Cheesy Air Fryer Stuffed Butternut Squash
Print Recipe
Pin Recipe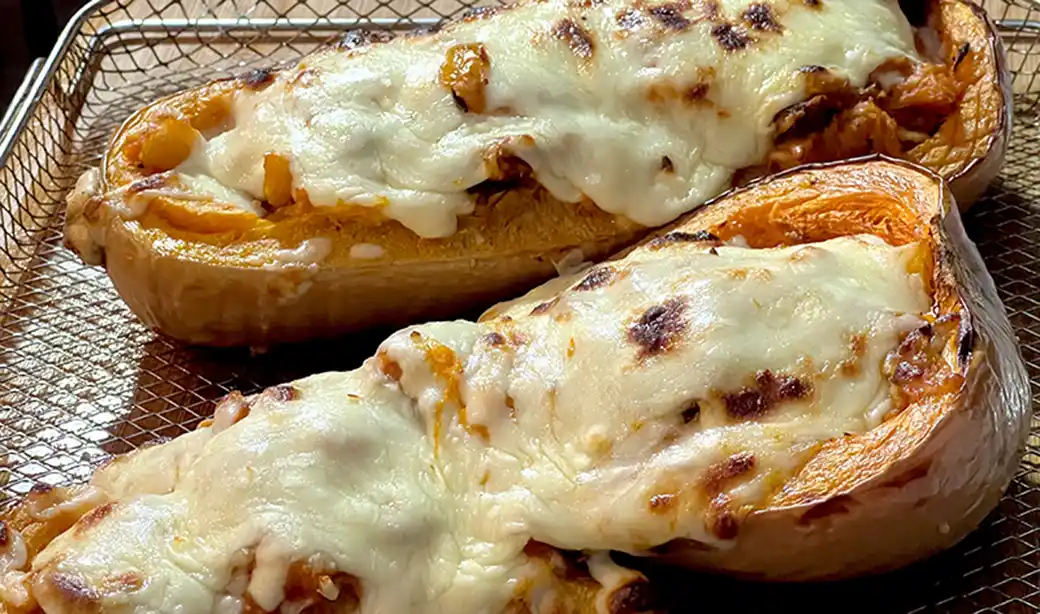 Ingredients
1

tablespoon

extra virgin olive oil

1-9"

Butternut squash

½

red onion

chopped

1

yellow or red bell pepper

diced

8

oz

crimini mushrooms 

sliced

2

teaspoons

minced garlic

1

cup

marinara sauce

1

tablespoon

dried oregano

1

teaspoon

sea salt

2

Beef sausages

sliced

2

oz

Parmesan cheese

shredded

2

oz

mozzarella cheese

shredded
Instructions
Preheat Air Fryer at 375°F.

Cut the butternut squash in half lengthwise and scoop out the seeds.

Place the squash halves cut-side down on the baking sheet and Air Fry for 20 minutes, then turn the squash halves and continue cooking for another 10 min.

While the squash is cooking, heat the oil and sauté the onions, bell pepper, mushrooms, minced garlic, oregano, and sausage for about 5 min on medium-high heat.

Add the marinara sauce and parmesan cheese and mix all ingredients well. Cook for another 2 min.

Once the squash is done, use a spoon to scrape out the cooked flesh leaving some flesh behind

Add the cooked butternut flesh to the mixture of marinara sauce and combine well.

Add the marinara sauce mixture on each half of the butternut, and top each half with the shredded mozzarella cheese.

Put back both halves of butternut squash into the Air Fryer and cook for 8 min or until all the cheese is melted.
Nutrition
Nutrition Facts
Cheesy Air Fryer Stuffed Butternut Squash
Amount per Serving
% Daily Value*
* Percent Daily Values are based on a 2000 calorie diet.
More Fall Inspiration
As you savor each bite, remember that this meal isn't just about satisfying your taste buds – it's about nourishing your body with the goodness of the season. So why not gather your ingredients and give this recipe a try? Your taste buds and your health will thank you!
For more recipe inspiration and facts about dairy, visit US Dairy.