This butternut squash bread recipe with prunes is the holiday loaf you didn't know you needed and will be a new staple for years to come.
When fall is in the air, pretty much everything has a pumpkin spice twist. But what if I told you I can help you escape the pumpkin boredom with a bread that will be even more of a hit than pumpkin bread?
I have partnered with California Prunes to share with you a seasonal butternut squash bread with prunes that is naturally sweetened with prune puree – no added sugar!
Why This Butternut Squash Bread Is Such a Winner
First you may be wondering, "Can you make bread with butternut squash?" And the simple answer is, absolutely. This festive holiday bread has prunes and butternut squash as the stars of the show. It is a nutritious breakfast or snack that brings both fruits and veggies to the table in a delicious way.
Plus, it uses prunes two ways for healthy swaps – as prune puree and chopped prunes for added texture. The prune puree decreases the oil needed in this recipe, and it also substitutes the added sugar completely.
The flavors are complemented with other holiday ingredients like cinnamon and walnuts. Plus, the base is part flour and part oats for added fiber and nutrients.
Benefits of Adding Prunes to Recipes
I love that this recipe highlights prunes, especially for the added health benefits. Did you know that prunes contain nutrients that influence bone health, including boron, potassium, and Vitamin K?
Plus, the mix of soluble and insoluble fiber can also help you maintain good digestive health. They give this bread a fiber boost, for more than 3g of fiber per slice.
Nutrients in Prunes
Prunes are also a low-glycemic food, and they can help maintain healthy blood sugar levels. Something we all hope for during the holiday feasts and festivities. Here are some nutrient highlights per serving of prunes (4 prunes):
3 g fiber (11% Daily Value)
280 mg potassium (6% Daily Value)
23 mcg of vitamin K (20% of the Daily Value)
No added sugar, cholesterol, sodium, or fat
Vitamins and minerals, potassium, copper, and boron
How to Make Butternut Squash Bread with Prunes
First, cook and mash the squash. Let cool for about 10 minutes. Preheat your oven to 350 degrees Fahrenheit, and coat your loaf pan with a little bit of oil. While the squash is cooling, blend together ½ cup of water and 10 prunes to make your naturally sweet prune puree, and set it aside.
To make the bread batter, mix together all of your dry ingredients. Then add in your chopped prune pieces and walnuts. This is a nice trick that coats them and helps prevent them from dropping to the bottom of the loaf.
Next mix together your wet ingredients, including the squash. Once fully combined, mix together the wet and dry ingredients, then scoop the batter into your loaf. Bake for an hour or until golden brown.

Butternut Squash Bread with Prunes
Print Recipe
Pin Recipe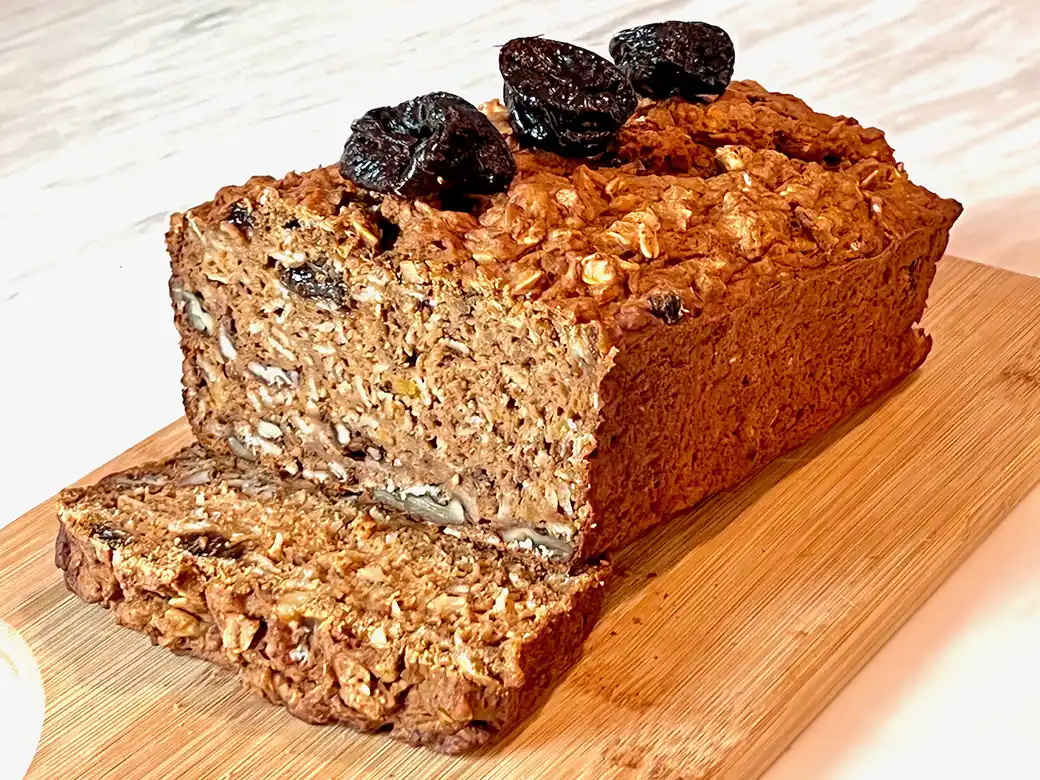 Ingredients
Prune Puree
½

cup

warm water

10

prunes
Other Bread Ingredients
3

cups

14 ½ ounces peeled and cubed butternut squash

Nonstick cooking spray

1½

cups

all-purpose flour

1½

cups

old-fashioned oats

8

prunes

chopped

½

cup

chopped walnuts

1

teaspoon

ground cinnamon

1

teaspoon

baking powder

1

teaspoon

baking soda

1

teaspoon

sea salt

½

cup

1% milk

2

large eggs

2

tablespoons

vanilla extract
Instructions
In a large pot, cover the squash with cold water. Bring to a boil over high heat and cook for 15 minutes or until soft. Drain the water and transfer the squash to a large bowl. Using a fork, mash the squash. Let cool for about 10 minutes.

Meanwhile, preheat the oven to 350 degrees F. Spray a 9-inch loaf pan with nonstick spray and set aside.

Blend together the water and prunes to make your puree.

In a medium bowl, stir together the flour, oats, cinnamon, baking powder, baking soda, and salt until well mixed. Mix in the chopped prunes and walnuts. Set aside.

When the squash is cooled, add the prune puree, milk, eggs, oil, and vanilla and mix until well blended.

Gently whisk the dry ingredients into the wet ingredients until just combined.

Spoon the batter into the prepared loaf pan and place in the oven on the middle rack. Bake for 60 minutes or until golden brown and a toothpick inserted in the center comes out clean.

Cut into slices and serve warm. Store leftovers in a sealed container in the refrigerator for up to 5 days.
Notes
Storage tip: Slice and freezer leftover bread in a sealed zip-lock bag for up to 3 months. Reheat individual slices in an oven or toaster.
Now I have one more fun idea for you. Of course, you can bake these normal sized loaves and enjoy them at a gathering. But if you're in need of a unique gift idea for the holidays, why not bake smaller loaves and wrap them in festive holiday decor?
Here I have an example of how you can wrap it for family or friends!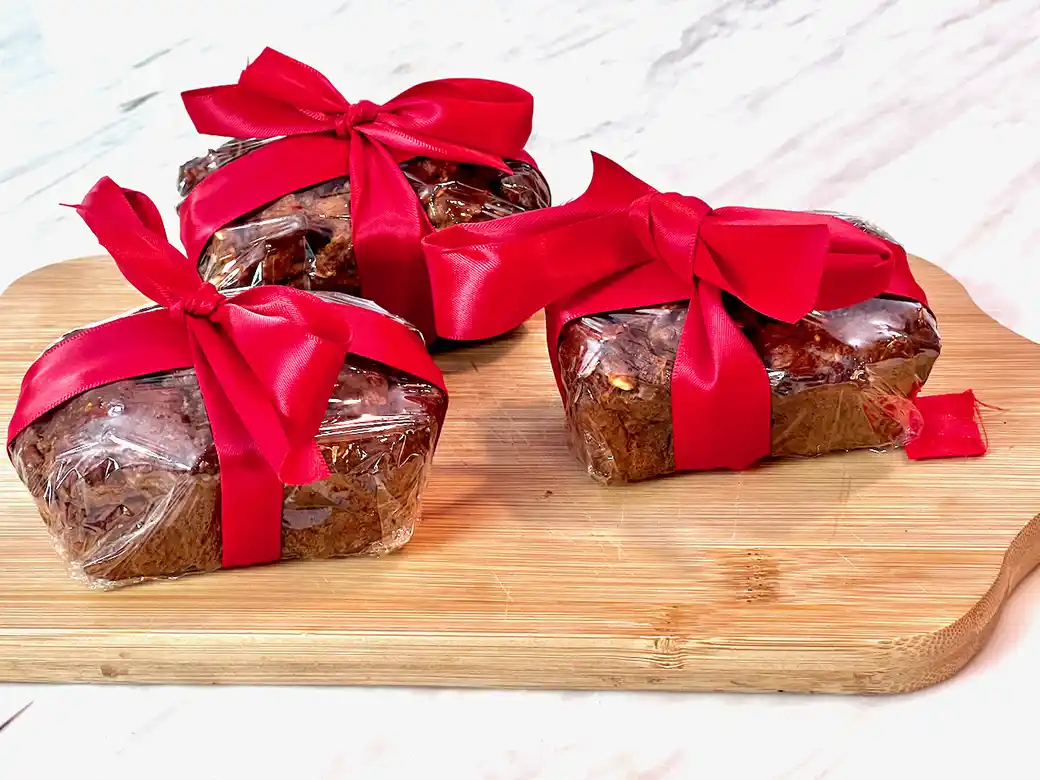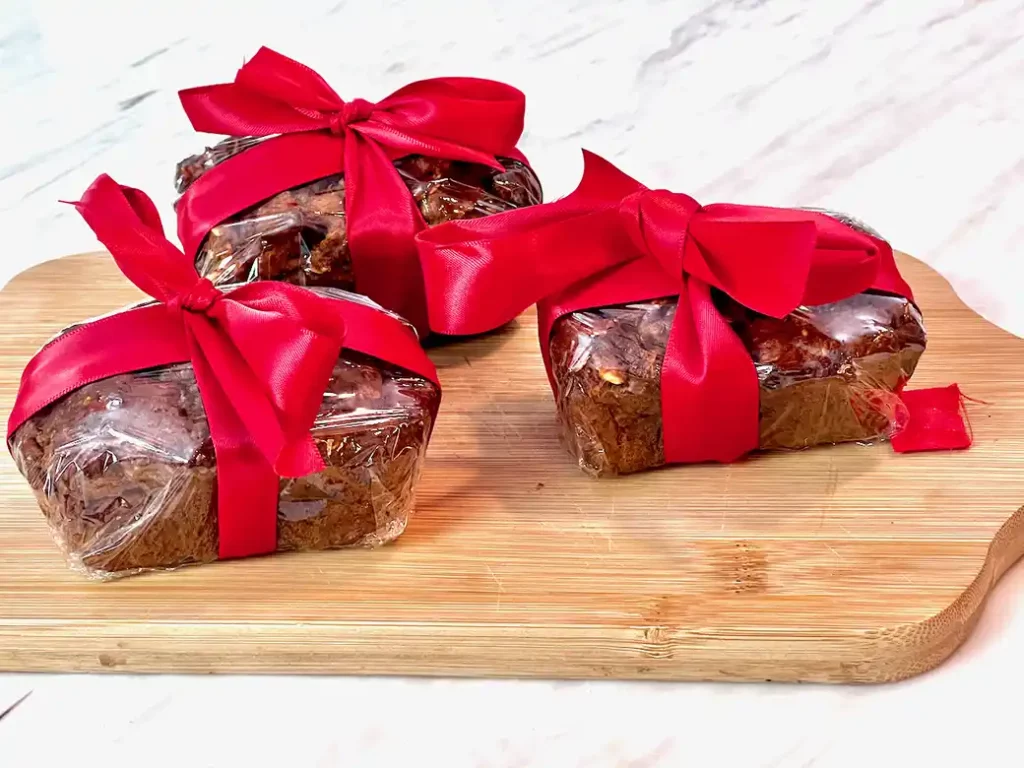 Now it's your turn to bake this delicious butternut squash bread recipe with prunes.
Visit California Prunes for more delicious prune recipes!