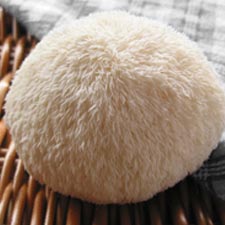 Have you ever heard of Bear's Head Mushrooms (also known as Lion's Mane Mushroom)? I was at my local farmer's market last weekend and the mushroom man had these weird looking mushrooms. I asked him how he cooks them and decided to buy a few. I brought them home and they were amazing! These mushrooms are unique, delicate, and super tasty. They soak up sauces like no other and add an extra texture to your dish that is exquisite.
I recommend cooking these mushrooms for the flavor truly comes out when heated. Eating them raw is not recommended due to a super bitter taste.
Here are some quick ideas to prepare ½ pound of bear's head mushrooms (these suggestions are meant to serve 4 people as a side vegetable):
Sautee in 1 Tbsp of butter, 1 shallot minced, 1 garlic clove minced, salt & pepper to taste
Sautee in 1 Tbsp olive oil, 1 Tbsp lemon juice, salt & pepper to taste
Sautee in 1 Tbsp butter, 12 whole sage leaves, salt & pepper to taste
Add any of your favorite sauces to this mushroom and the sauces will be soaked up like no other.
Want to try something new and exotic? Check out Bear's Head Mushrooms at your local farmer's market this weekend and cook up a storm!
Sarah Koszyk, MA, RD, is a nutrition coach at Eating Free who cooks with love and loves to eat.