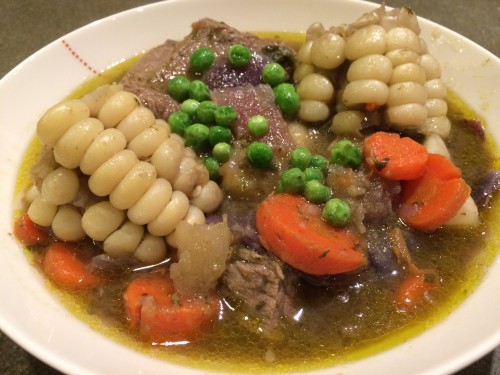 Minestrone is a thick soup of Italian origin made with a base of vegetables. Being as I am Peruvian and enjoy my native foods, I took this Italian classic and spiced it up with an Andean twist; adding basil, Chocó (large corn), yuca, and purple potatoes. Here is my hearty version of this delicious classic.
Ingredients:
½ pound beef on the bone
½ lean stew beef
2, 32 ounce vegetable broths
1 pound Choclo corn, fresh or frozen
1 pound yuca, peeled and wedged
1 cup carrot, sliced
Handful of basil
2 celery stalks, sliced
1 red onion, quartered
½ pound purple potato, quartered
1 cup green peas, frozen
Directions:
Combine one 32 ounce container of broth and one handful of basil into blender, liquefy and set aside.
Slice the yuca into three equal-length portions. Holding each portion on its axis, carefully slice off the outer peel and discard. Chop each portion in half lengthwise and then into eight wedges. Repeat for each yuca piece. Set aside.
In a Dutch oven or large soup pot, combine the basil broth, regular broth, meat, yuca, corn, carrot, onion, and celery. Bring heat to medium-high and cover the pot with a lid. When the soup comes to a boil, reduce heat and simmer, covered, for 45 minutes. Stir occasionally.
Add the purple potatoes and simmer, covered, for an additional 25 minutes.
Add the green peas, salt, and pepper and simmer for an additional few minutes before serving.
Viola, your soup is now ready to serve and enjoy. Add a side of quinoa, potatoes, or brown rice for a complete meal.
Note: Store the soup in the refrigerator for up to five days.
More Peruvian superfood recipes from Whole Body Reboot are available on Amazon.