I stopped drinking milk at a young age due to digestive discomfort and it mainly occurred with liquid milk. I would feel bloated, have abdominal pain and even diarrhea. So, I self-diagnosed myself with "lactose intolerance."
I am happy to say that I am back to drinking milk. Recently, I discovered a2 Milk® and have used it in many of my recipes, without any digestive discomfort. So what is a2 Milk®?
All cows naturally produce either A1 or A2 beta-casein proteins, or a combination of both, in their milk. It happens very similar to the way we all have a specific eye color. Some of us are born with brown eyes and some with blue eyes. The same genetic determination happens within the cows and their type of milk.
a2 Milk® is the only cow's milk in the U.S. market that is free from the A1 beta-casein protein. This protein has been linked to digestive discomfort, similar to lactose intolerance.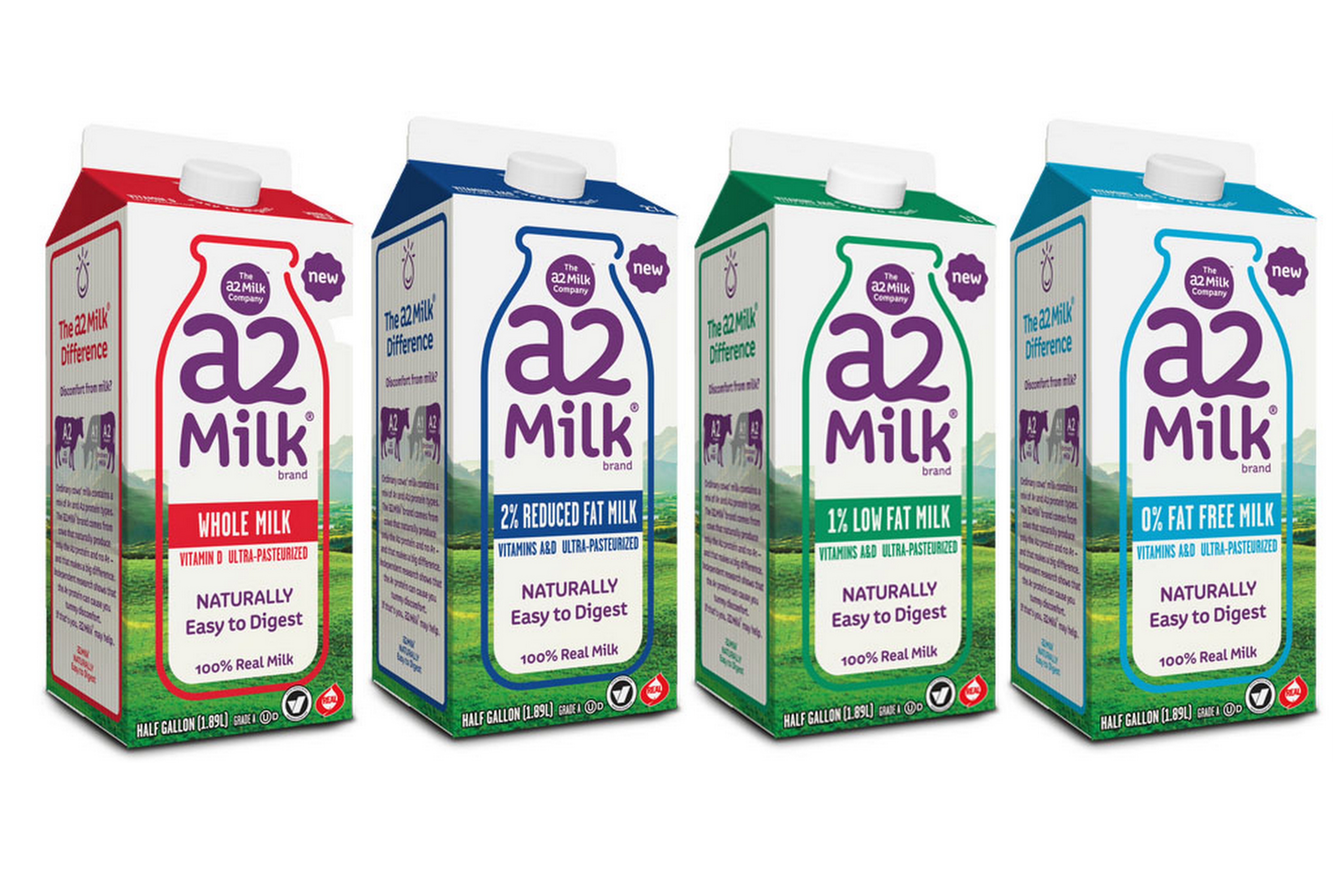 By using a simple hair follicle test, they're able to determine which proteins each cow is producing. If a cow is found to be producing only A2 beta-casein, they are separated from the rest of the herd. a2 Milk® is also completely free from growth hormones, antibiotics and has no artificial ingredients or additives – nothing is ever added or taken away.
And since milk and I have been reunited thanks to a2 Milk®, today I am presenting one of my favorite Peruvian dishes that you will all love, Aji de Gallina. This is a classic Peruvian chicken stew in a spicy and nutty creamy sauce.
Aji De Gallina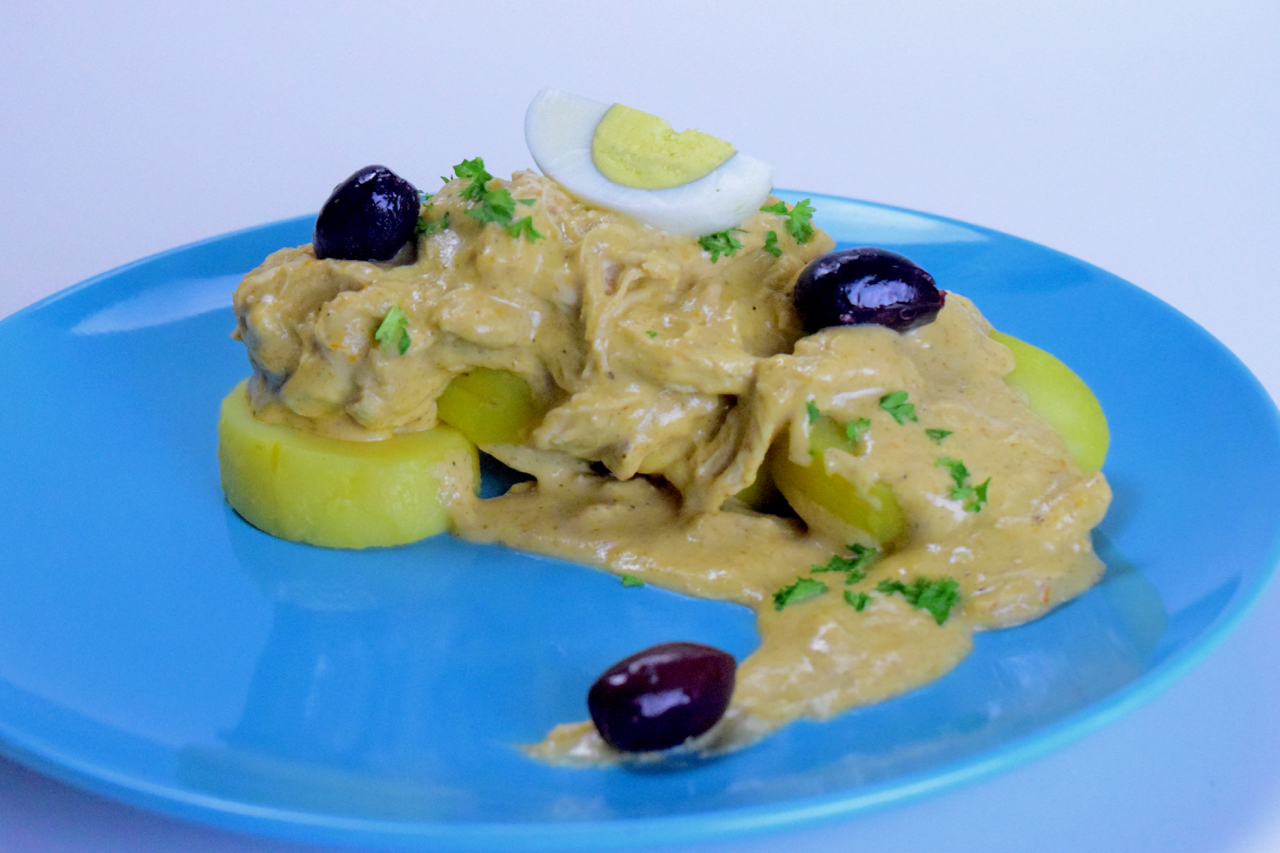 Serves: 8 Serving Size: 1 cup
Reboot Servings: 0.5 Grains & Starches, 0.5 Milk, 5.7 Meat & Vegetarian Meat, 3 Fat
Calories: 379
Ingredients
4 slices of whole grain bread
2 ½ cups a2 Milk® whole milk
1 tablespoon canola oil
1 red onion, finely chopped
2 teaspoons garlic, chopped
½ cup walnuts
6 tablespoons aji paste
1 teaspoon ground cumin
2 teaspoons sea salt
1 teaspoon black pepper
2 pounds chicken breast, cooked and shredded
2 ounces Parmesan cheese
1 cup chicken broth
To garnish
3-4 pitted black olives
1 egg, hard-boiled and cut into quarters
1 tablespoon parsley, chopped
¼ cup chopped walnuts
Directions
Cut the bread into small pieces and place in a bowl with 1 ½ cups of milk to soak. Set aside and leave remaining cup of milk for the sauce.
In a medium sized saute pan, heat the oil over medium heat. Add the onion and garlic, and sauté for 3 minutes or until the onion becomes translucent. Add the chopped walnuts, chili paste, salt, pepper, and cumin.
Continue to cook and stir occasionally for another 3 minutes. Remove from the heat and set aside to cool.
In a blender, add the soaked bread with milk and the onion and walnut mixture. Blend together until it reaches a smooth consistency.
In a medium sized pot, pour the mixture and turn on to medium heat. Add the broth, shredded chicken breast, Parmesan cheese and remaining milk. Cook for about 6-8 minutes or until it is creamy. If the sauce starts to dry out during the cooking process, add a little broth.
Serve over sliced boiled yellow potatoes and garnish with olives, egg, parsley, and walnuts.
Disclaimer: Manuel Villacorta, M.S., R.D., is a spokesperson/ambassador for a2 Milk® and is paid for services which include, but not limited to, photography, videography, recipe development, social media promotion and online contributions.
– "I only represent companies that I truly believe in their mission and love their products deeply in my heart. I use them often myself as they are the best, nutritionally potent foods available" – Manuel Villacorta.