This cilantro lime marinated Flank Steak is grilled indoors with an Air Fryer and has incredible flavor and texture.
In one of my latest articles, I shared some facts about beef that many people don't know. Depending on the cut and the type, you can eat lean beef many times a week and still lead a heart-healthy lifestyle. Plus, there are many different lean cuts of beef that can take on a world of flavors.
I've partnered with National Cattlemen's Beef Association, a Contractor of the Beef Checkoff, to share a healthy and flavorful marinated Air Fryer Flank Steak recipe you can make any night of the week.
Indoor Grilling with the Air Fryer
While grilling outdoors is a warm weather activity we all love, not everyone has that option. The good news is that you can get a similar flavor and texture by using an Air Fryer. So, take your indoor grilling game up a notch with this Air Fryer Flank Steak recipe.
How to Choose & Prepare Your Cut of Beef
One way to include beef in a healthy eating pattern is choosing lean cuts. And the majority of beef cuts sold at the grocery store meet government guidelines for "lean." These include many popular favorites like Strip Steak, Flank Steak and even Tenderloin (1). That is why I chose Flank Steak as the star of this recipe.
In addition to choosing the leanest cuts available, trim visible fat and use cooking methods like broiling, roasting or poaching and pair them with fiber rich vegetables, fruits and whole grains (2).
How to Make Cilantro Lime Marinated Steak
You will want to start by making the marinade, which can tenderizes and/or adds extra flavor to the meat. Tender cuts can be marinated for as little as 15 minutes or as long as two hours. For this recipe, the beef only needs to marinate for 30 minutes.
For less tender cuts, marinating for at least six hours, but not more than 24 hours, will do the trick.  Marinades and rubs  are a great way to take beef to the next level with minimal effort.
How to Cook Flank Steak in Air Fryer
The Air Fryer makes it nearly foolproof to cook your steak. Cook on the first side for 7 minutes. Then flip and cook for another 4 minutes.
Beef's tender, juicy texture is optimum when cooked to medium rare (145°F) to medium (160°F) doneness. Plus, this cooking method provides the flavor of grilling outdoors without the hassle.
Pairing Beef with Veggies
This flank steak is paired with a colorful plant-forward salad with over 5 fruits and veggies. Pairing fruits and vegetables with beef can make it easier to enjoy more produce in a balanced diet. (4) Plus, it's a simple meal you can prepare once and enjoy many times during the week.

Air Fryer Cilantro Lime Marinated Flank Steak with Salad
Print Recipe
Pin Recipe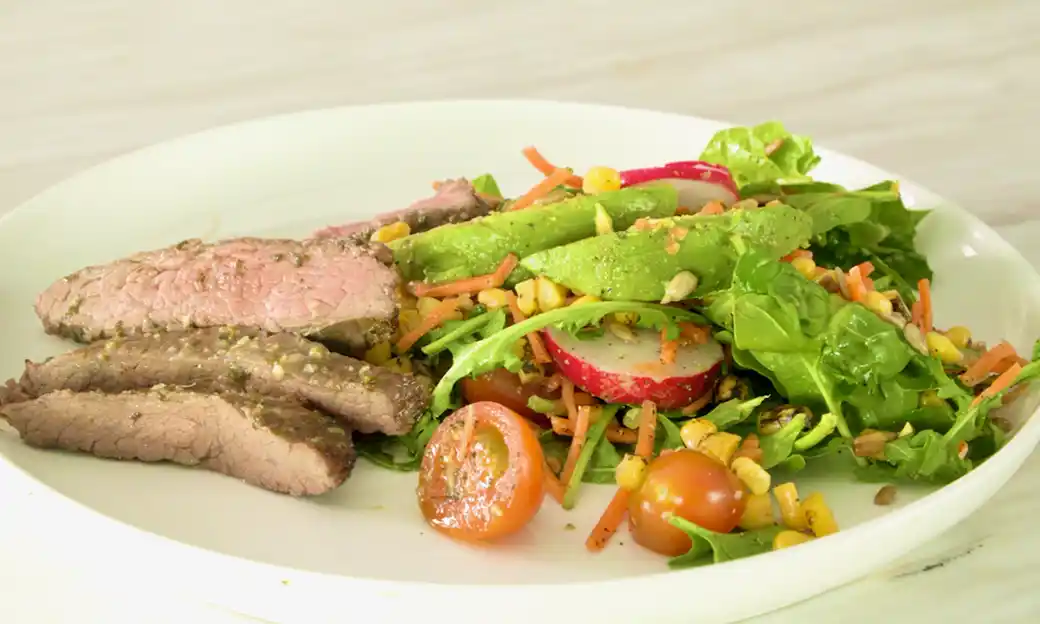 Ingredients
Cilantro Lime Marinade:
6

tablespoons

of lime juice

3

garlic cloves

2

tablespoons

extra virgin olive oil

1/2

cup

cilantro leaves
Salad:
4

cups

arugula

1

cup

roasted corn

1

Tbsp

sunflower seeds

1

avocado sliced

5

radishes sliced

2

cups

shredded carrots

2

Tbsp

olive oil

1

Tbsp

balsamic vinegar

Sea salt to taste

Ground black pepper to taste
Instructions
Marinade:
Add all ingredients in a food processor or blender and blend until smooth consistency.

Using a storage bag, add the steak with the marinade.

Marinate for at least 30 min.
Steak:
Remove from the marinade and cook in the Air Fryer for 7 min on one side.

Then flip and cook for 4 min on the other side, until cooked to an internal temperature of 145 degrees F for medium rare as measured by a meat thermometer.

Remove from the Air Fryer, let rest for at least 5 minutes, and cut against the grain of the meat into 4-5-inch long pieces.
Salad:
Add your arugula as your salad base.

Toss in the roasted corn, radishes, avocado, and sunflower seeds.

Drizzle the olive oil and balsamic vinegar over the salad and add ground black pepper.

Pair the salad with the air fryer Flank Steak.
Nutrient Benefits of this Steak and Salad Recipe
This recipe is what I like to call a nutrient-packed meal. Beef's high-quality protein, iron, and zinc add to a balanced diet and complement the nutrients found in plant foods (3).
Learn More Tips for Cooking with Beef
To learn more about beef, visit Beef It's What's for Dinner, where you can also view more cut ideas for grilling.
References
​​U.S. Department of Agriculture, Agricultural Research Service, Nutrient Data Laboratory. 2019. FoodData Central. fdc.nal.usda.gov (Beef composite, cooked – NDB Number: 13364).
American Heart Association. 2021. The American Heart Association Diet and Lifestyle Recommendations. https://www.heart.org/en/healthy-living/healthy-eating/eat-smart/nutrition-basics/aha-diet-and-lifestyle-recommendations.
Cosgrove M, Flynn A, Kiely M. Consumption of red meat, white meat and processed meat in Irish adults in relation to dietary quality. Br J Nutr 2005;93(6):933-42.
U.S. Department of Agriculture Center for Nutrition Policy and Promotion. ChooseMyPlate.gov. Available at http://www.choosemyplate.gov/.