I just received Sharon Palmer's newest book, Plant-Powered for Life (The Experiment, 2014), in the mail this week. In my first impression I must say, how stunning! This vegetarian cookbook is not only appealing to the eye because of its fresh and crisp design and photography, but the feel of the matte finished pages makes for a welcoming cookbook/handbook.
In Plant-Powered for Life, Sharon Palmer, registered dietitian, lays out a practical process of lasting health in 52 insightful steps. Each health improving step is organized into a chapter. Beginning with the attention-grabbing tip, followed by a detailed reasoning, and finished with a handful of delicious recipes that coincide with the chapter's theme, this book screams a well-seasoned dietitian and nutrition expert.
A great example of the structure of this book is within chapter 27, "Invest in the money- and time-saving kitchen tools you need." This chapter really resonated with me because of the experience I have with my busy clients. Whether it is their career, their traveling, or their family, those in a rush have a challenge grasping the habit and art of home cooking. If there's one incredible thing you could do for your health it's to cook your own meals. You can't really get control of your health until you know exactly what you're putting in your body, and cooking your own meals helps. Sharon encourages home cooking by advising to invest in a time-saving tool such as a food processor or a slow cooker. Here is a recipe for the tip she is conveying:
Smoky Chili with Sweet Potatoes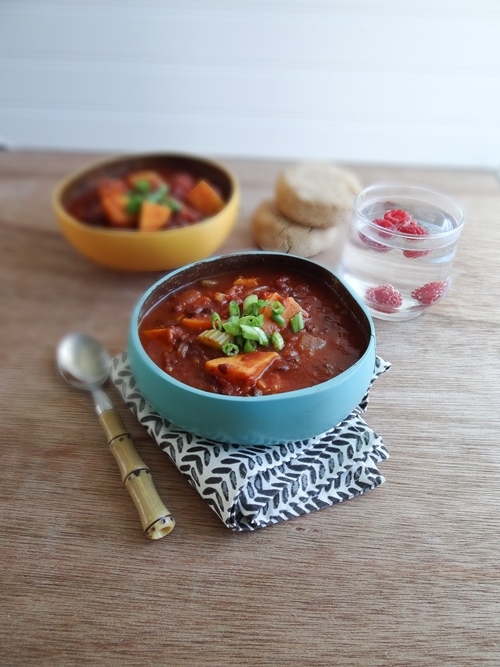 Serves 10
Ingredients:
2 cups dried small red beans (e.g., Anasazi or kidney)
4 ½ cups water, plus more for soaking
1 teaspoon reduced sodium vegetable broth base
One 14oz can fire-roasted diced tomatoes, no salt added, with liquid
2 tablespoons tomato paste
1 medium yellow onion, diced
2 medium garlic cloves, minced
1 teaspoon smoked paprika
1 teaspoon chili powder
1 teaspoon cumin
1 teaspoon liquid smoke (see notes)
Directions:
Cover the beans with water and soak overnight
Drain the beans and add to a large pot with the 4 ½ cups water and broth base. Bring to a boil, covered, over medium-high heat, then reduce the heat to medium and simmer for 20 minutes.
Add the tomatoes, tomato paste, onion, sweet potatoes, celery, garlic, paprika, chili powder, cumin, and liquid smoke and stir well. Cover and cook for an additional 40 to 45 minutes, stirring occasionally, until the sweet potatoes are tender yet firm and the beans are tender. Add water as needed to replace moisture lost to evaporation, although the consistency should be thick.
Notes: Liquid smoke is available in many supermarkets in the spice or seasoning section; it is made by smoking wood and collecting the condensed droplets, so it adds a wonderful smokiness to dishes.
To prepare in a slow cooker, place the soaked beans and remained ingredients into the container and cook for 4 to 5 hours on high or 8 to 10 hours on low.
Variation: Substitute dried white beans, garbanzo beans, or heirloom beans for the red beans.
Recipe by Sharon Palmer, RD