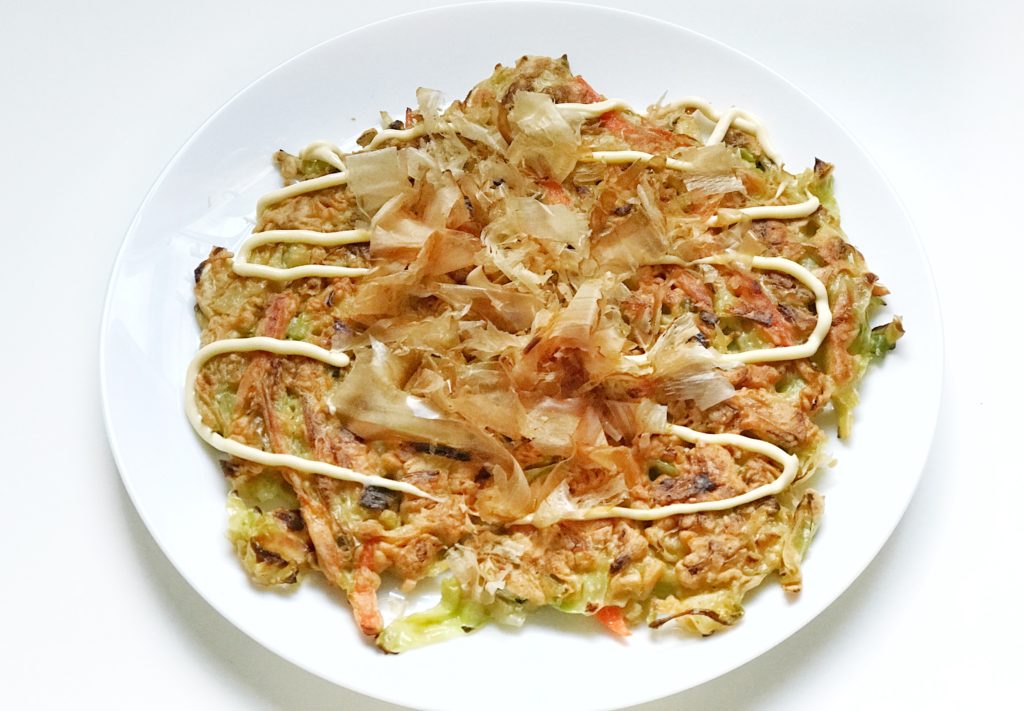 Vegetarian
Looking for ways to incorporate vegetables into your breakfast time? Look no further, this savory vegetable pancake is a great way to get some vegetables in the morning.
Servings: 8
Serving Size: 1 piece
Ingredients:
4 cups cabbage, shredded
1 cup carrot, shredded
3 stalks green onion, chopped
6 pieces shiitake mushroom, cooked, sliced
2 eggs, large
1 cup dashi broth
1.5 tablespoon soy sauce, light
1 tablespoon sesame oil
1 cup all-purpose flour
1 tablespoon cooking oil of choice
Toppings:
2 tablespoon olive oil mayonnaise
1 pinch bonito flakes
Directions: 
1. In a large bowl, combine cabbage, carrots, green onions and shiitake mushroom.
2. In a separate large bowl, whisk together eggs, dashi broth, soy sauce, and sesame oil until smooth.
3. Slowly whisk in flour until a thick batter forms.
4. Stir in the vegetables and make sure everything is evenly coated with the batter.
5. In a 12″ pan, add 1/2 tablespoon of cooking oil over medium heat. Once the oil is hot, add half of the batter to the pan. Move the batter with a spatula to form a circle in the pan. Cover the pan with a lid and cook the pancake until it is golden brown on the bottom (about 3-4 minutes.)
6. Flip the pancake and cook for an additional 2 minutes. Remove the cooked pancake from the pan.
7. In the same pan, add the remaining oil and the remaining batter.
8. Cook the second pancake exactly like the first pancake.
9. Top the pancake with mayonnaise and bonito flakes.
10. Cut each pancake into 4 pieces.
Chef's Note: 
Check out this blog post on instructions on how to make dashi.