The summer is a perfect time to add some new delicious recipes to your salad rotation, and this cantaloupe salad with mozzarella and mint won't disappoint!
I have partnered with Have a Plant to share with you today's topic.
Today I want to celebrate farmers and growers in California and across the nation. They have a passion for bringing fruits and vegetables from farm to table, which allows all of us to enjoy fresh, delicious meals.
Next time you're at the grocery store or farmer's market, take a moment to think about all of the steps the food in front of you took before even arriving there. It's crazy to think about where our food actually comes from, and how many people are involved in the process!
Fresh Ingredients All Grown in California
Since I live in California, I feel an extra allegiance to all of my California farmers and growers. They produce some of the best quality items, and work so hard to make sure we can eat the foods we enjoy so much during this season!
Can you believe that each of the colorful fruits and vegetables in this dish are from California? I feel so lucky to call this place my home, and am so grateful for the nutritious foods I get to enjoy!
Plus, it is one of the main points of agriculture in the US. Fortunately I've been able to visit many of these great locations! So, today I want to highlight local foods that we all enjoy so much during the summer.
Ingredients for a Summer Cantaloupe Salad
There are so many ways to enjoy cantaloupe salad. In my version, I wanted to use fresh and nutrient-packed produce! You'll need cantaloupe, avocado, cucumber, roasted corn, mozzarella, and mint. Then, your refreshing dressing is simply olive oil, lemon, and salt and pepper to taste.
How to Make a Cantaloupe Salad
This summer cantaloupe salad with mozzarella and mint is so easy to make. You'll first want to make your cantaloupe pieces or cantaloupe balls. Then you'll add the avocado, cucumber, roasted corn, and mozzarella. Top with mint, olive oil and lemon, and mix together and it's ready to enjoy!

Summer Cantaloupe Salad with Mozzarella and Mint
Print Recipe
Pin Recipe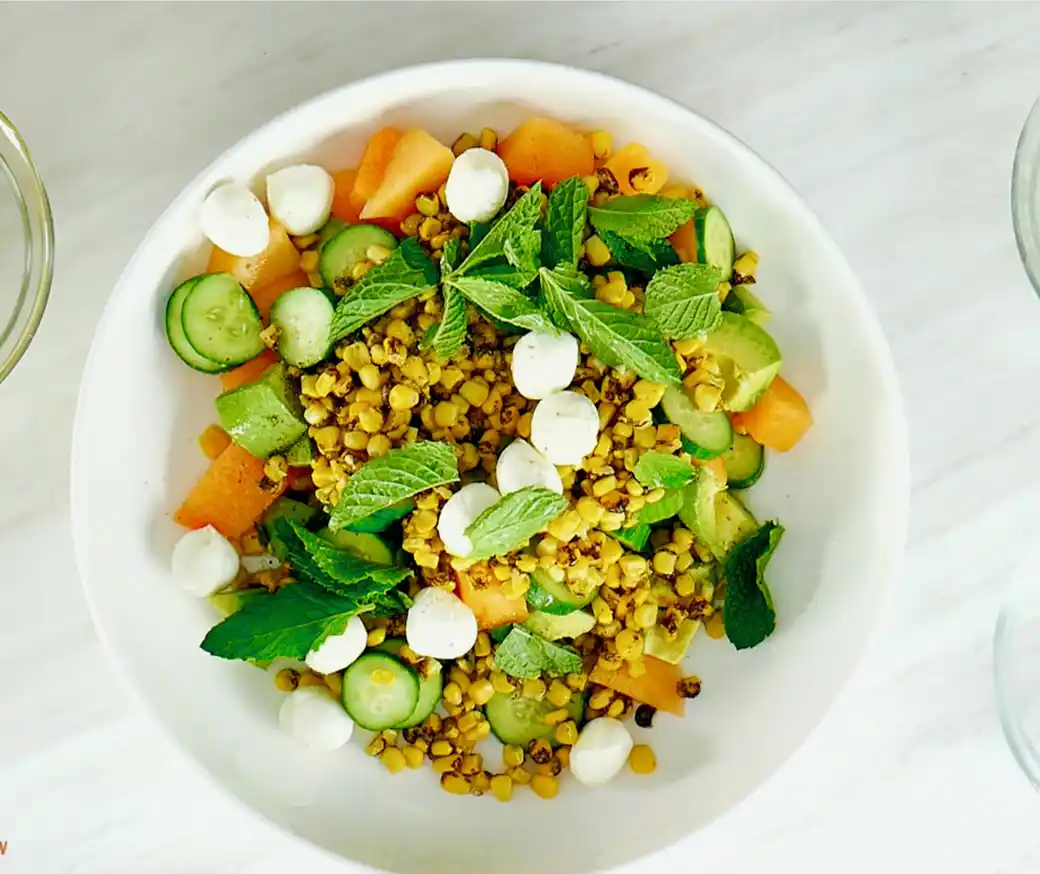 Ingredients
2

cups

Cantaloupe

pieces

1

Avocado

diced

2

Persian cucumbers Cucumbers

slice

1

cup

frozen Roasted corn

5-10

Mint leaves

sliced

6

ounces

Mozzarella cheese balls

1

tablespoon

Olive Oil

1

teaspoon

Lemon

Sea salt and pepper to taste
Instructions
Cut your cantaloupe into 1" squares, or using a tool, into small cantaloupe balls.

Mix this together with your avocado, cucumber, roasted corn, and mozzarella.

Top with mint, olive oil and lemon, and mix together when serving.
This is a fantastic appetizer for summer gatherings, and can pair well with many different meat dishes. Now go enjoy your local summer produce my friends!
Enjoy Other Refreshing Summer Dishes