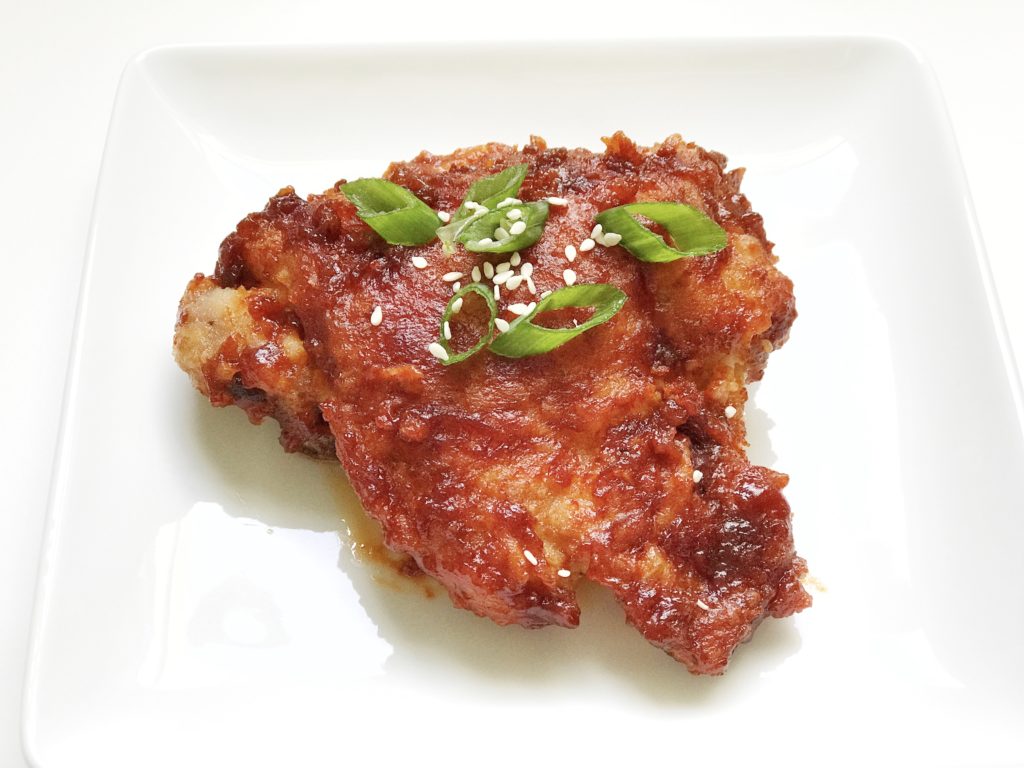 This is a tangy spicy chicken recipe that incorporates Korean chili paste called gochujang. Gochujang is made from red chilis and fermented soy beans. You can buy this at your local Asian market.
Servings: 4
Serving Size: 1 chicken thigh
Ingredients: 
4 pieces of 5 oz chicken thighs
1 cup all purpose flour
1 tablespoon garlic powder
1 tablespoon black pepper
2 teaspoon salt
3 tablespoon cooking oil of choice
2 thin slices of ginger
2 cloves garlic
3 tablespoon honey
4 tablespoon gochujang (Korean Chili Paste)
1 teaspoon sesame oil
1 tablespoon soy sauce, light
For garnish:
sesame seeds
green onions
Directions: 
1. Combine flour, garlic powder, black pepper and salt.
2. Coat all chicken pieces in flour mixture
3. In a non stick pan, add cooking oil, ginger and garlic to the pan.
4. Using medium heat, gently add the chicken, skin side down, to the pan. Cover with a lid.
5. After 5 minutes, turn over the chicken and reduce heat to a low and continue cooking for an additional 5 minute. Cover with a lid.
6. Discard all excess oil in the pan.
7. In a small bowl, mix together: honey, gochujang, sesame oil and light soy sauce.
8. Add mixture to chicken and coat evenly.
9. Remove from heat and garnish with sesame seeds and green onions.