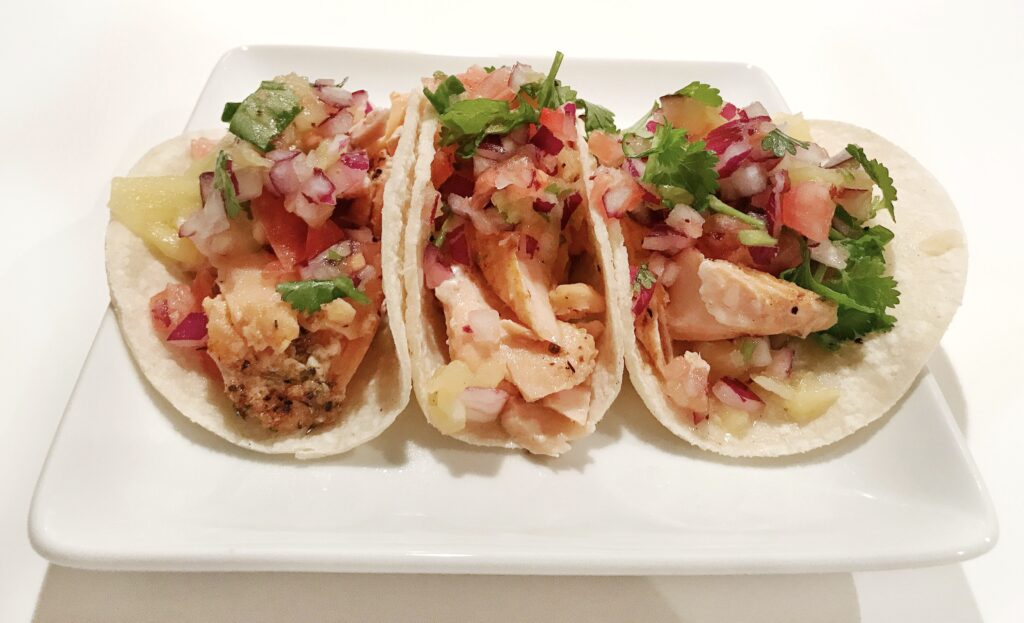 Pescatarian 
This is a fresh salmon taco that is topped off with a sweet pineapple and tomato salsa. Try this recipe the next time you are trying to incorporate your 2 servings of fish into your diet!
Servings: 4
Serving Size: 3 tacos
Ingredients:
12 oz salmon
2 tablespoon olive oil
1 tablespoon chili powder
1 tablespoon paprika
1 tablespoon onion powder
1 teaspoon garlic powder
1 teaspoon salt
1/4 teaspoon pepper
1/4 teaspoon dried thyme
1/4 teaspoon dried basil
1/4 teaspoon dried oregano
12 tortillas
For pineapple salsa:
1/2 cup diced fresh pineapple
2 roma tomatoes, chopped
1/2 red onions, chopped
1/4 cup minced cilantro
Juice of one lime
Salt and pepper to taste
Directions:
1. Preheat oven to 450 degrees Fahrenheit.
2. In a small bowl, combine oil, chili powder, paprika, onion powder, garlic powder, salt, pepper, thyme, basil, and oregano.
3. Rub on the salmon fillets.
4. Bake salmon until cooked through, about 12-15 minutes.
5. Heat up tortillas according to package.
For the pineapple salsa:
1. In a medium bowl, add the pineapple, tomatoes, red onion, cilantro, and lime juice. Toss well.
Flake cooked salmon into pieces. Assemble tacos and top with pineapple salsa.
Chef's Note:
For a more authentic flavor, try grilling the fish and the tortillas!