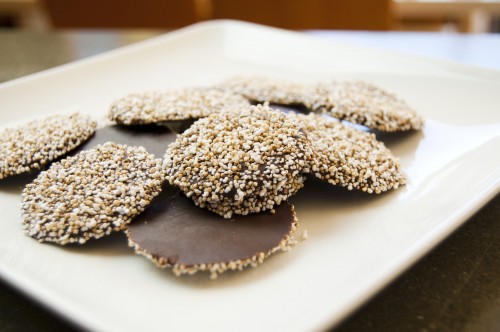 Gluten Free/Vegetarian
Are you a chocolate lover? At only 100 calories per 3 chocolate medallions, you can't go wrong! The addition of popped kiwicha make these a sure crowd pleaser and perfect for a Halloween treat!
Kiwicha, also known as amaranth or "mini quinoa" is a small pseudo cereal noted for its dense nutritional content. Kiwicha has been farmed in Peru and other areas of South America for over 4,000 years and was widely used as a subsistence crop. Kiwicha is now widely recognize and considered an anti-aging food due to its cumulative anti-carcinogenic, anti-hypertensive, anti-oxidant, and anti-lipidemic properties.
Serves: 6 Serving Size: 3 medallions
Reboot Servings: 0.3 Grains & Starches, 0.3 Sugar, 1 Fat
Calories: 102
Ingredients:
½ cup popped kiwicha or amaranth
1 bar dark chocolate (100g), 73% or darker
Directions:
-For the popped kiwicha
Heat a medium sauté pan over high heat until the entire surface is extremely hot. Add 1 tablespoon of kiwicha and evenly distribute it in the pan. No oil is needed. Cover the pan with a glass lid and allow the kiwicha to "pop" until white, roughly 30 seconds, mak­ing sure to move the pan over the heat to ensure even heat distribution. When popped, remove the kiwicha from the heat and immediately transfer to a bowl.
Repeat step 1 until the desired amount of kiwicha is popped. It may take a round or two of trial and error to get the heat, movement of the pan, and the timing just right, but you'll get the hang of it in no time, and then popping kiwicha will be fun as well as practical.
-for the chocolate medallions:
Finely chop chocolate and place in a stainless steel bowl.
Fill a small saucepot with 3-4 inches of water and bring to a boil. Place bowl of chocolate so it sits on top of the saucepot without touching the water. Lower heat to a simmer and stir chocolate until melted. Once melted, remove bowl from heat and stir until smooth and shiny.
Place a piece of parchment on top of the baking sheet. Using a small metal spoon, pour small pools of melted chocolate onto the parchment paper, leaving each medallion some room to spread out. Before the chocolate hardens, sprinkle each chocolate medallion with a generous layer of popped kiwicha.
Allow the chocolate to harden for about 30 minutes in the refrigerator before eating.
Per Serving: Kcal 102, Protein 1.4g, Carb 9.5 g, Fat 4.8 g, Sodium 0.1 mg, Dietary Fiber 2.2 g,