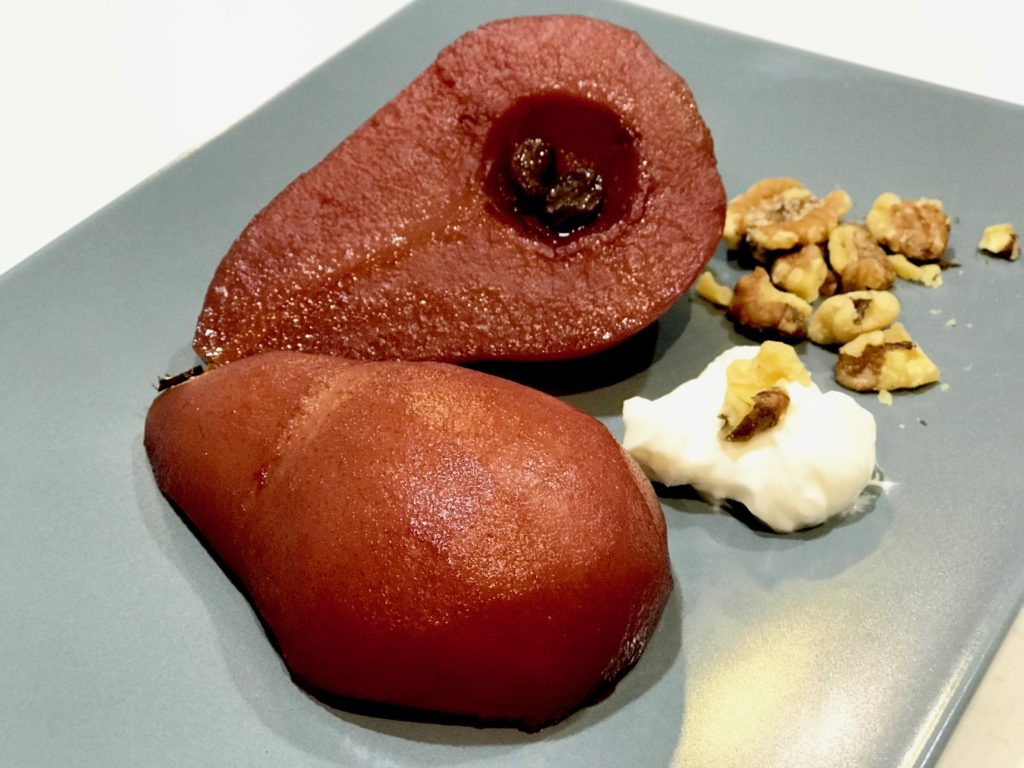 Gluten Free, Vegan 
December was National Pear Month. Did you know that one medium pear has about 6 grams of fiber which is 24% of the recommended daily value! What better way to celebrate this month than to incorporate the featured fruit into your holiday dishes.
This poached pear in red wine recipe is the perfect holiday side dish to accompany most of your dessert dishes! This recipe uses red wine, cinnamon, and raisins which will surely leave your house smelling like the holiday season. You can feel safe using pears to feed yourself and your guests because they're hypoallergenic.
Servings: 2
Serving Size: ½ of a medium Bosc pear
Ingredients:
1 ½  cup water
1 ½ cup red wine
½ teaspoon vanilla extract
1 cinnamon stick
1 large Bosc pear, halved, cored
1 teaspoon raisins
Instructions:
Place water, red wine, vanilla extract and cinnamon stick in a small pot and bring to a boil. Add pears and reduce heat to a low and poach until tender (about 10 minutes).

Remove the pears and discard the liquid.

Serve pears alone or to compliment other dishes!
Chef Note: For best results, use a ripe pear. You can check the ripeness of the pear by feeling the "neck" part. If it's slightly soft then it is ripe.