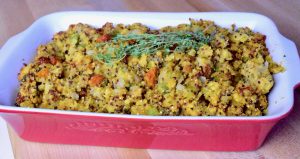 GLUTEN FREE
One of my favorite parts of the Thanksgiving spread is the stuffing.  Stuffing is one of those foods that can be made a million different ways with a multitude of ingredients. While classically prepared using a combination of bread, vegetables and often meat or meat stock, there is not one correct way to make stuffing.  this time I make mine using a gluten-free cornbread as the base with the addition of Peruvian superfoods, dried pichuberries and quinoa.
Serves: 10 Serving Size: 1 1/2 cups (244 grams)
Reboot Servings: 2 Grains & Starches, 0.7 Fruit, 1 Meat & Vegetarian Meat, 2 Fat, 0.5 Sugar
Calories: 339
Ingredients:
1 recipe quinoa cornbread (see blog)
2 Tbsp canola oil
1 large onion, chopped fine
5 stalks celery, chopped fine
3 cloves garlic, crushed
1 ½ Tbsp chopped fresh sage
1 ½ Tbsp chopped fresh thyme
3 cups chicken stock
2 eggs
1 cup dried pichuberries, whole
Salt and pepper to taste
Olive oil spray
Directions:
Preheat oven to 350 degrees.
Cut the cornbread into 1-inch cubes and place on a sheet pan. Bake for 5-10 minutes, tossing as needed to dry out the bread cubes. When dry and slightly golden, pull from the oven and set aside to cool. Leave oven on.
Heat olive oil in a large sauté pan over med-high heat. When hot, add onion and celery and sauté until soft. If the vegetables start to stick to the pan, add a little chicken stock.
Add garlic, sage and thyme to the pan and heat until fragrant. Set aside.
Place eggs and remaining chicken stock in a large mixing bowl and whisk to combine. Add sautéed onion mixture, toasted cornbread and dried pichuberries to the bowl. Add salt and pepper to taste. Mix to combine.
Let mixture sit for about 5-10 minutes to absorb some of the liquids. Transfer to a baking dish sprayed with a thin coat of olive oil.
Bake for 40-45 minutes until golden brown on top and crisp around the edges. Serve warm.