Lomo saltado, which is a beef stir fry, is a very popular dish in Peru. It is obviously Asian influenced and is commonly found in the ubiquitous Chifa (Peruvian-Chinese) restaurants as well as in many home kitchens. Here, I present a standard home recipe for lomo saltado that is sure to make your mouth water.
Serves: 4
Ingredients
2 tablespoons canola oil
1 pound beef tri-tip or filet mignon, thinly sliced into stick-shaped pieces
salt and pepper to taste
1 to 2 teaspoons of cumin to taste
2 red onions, cut into "sticks"
1 clove garlic, minced
1 tablespoon aji sauce
2 tablespoons balsamic vinegar
2 tomatoes, cut into "sticks"
3 tablespoons soy sauce
2 tablespoons chopped cilantro
Directions
1) Heat the oil and saute the meat in a pan. Season with salt and pepper and stir in the cumin. Remove the meat from the pan.
2) Add the onions, garlic, aji, and vinegar to the pan. Cook for 2 to 3 minutes. Add the tomatoes and mix well. Return the beef to the pan, add the soy sauce, and sprinkle with cilantro. Stir and serve immediately.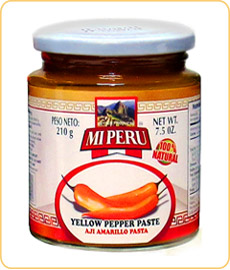 For more recipes using Peruvian superfoods, visit here.