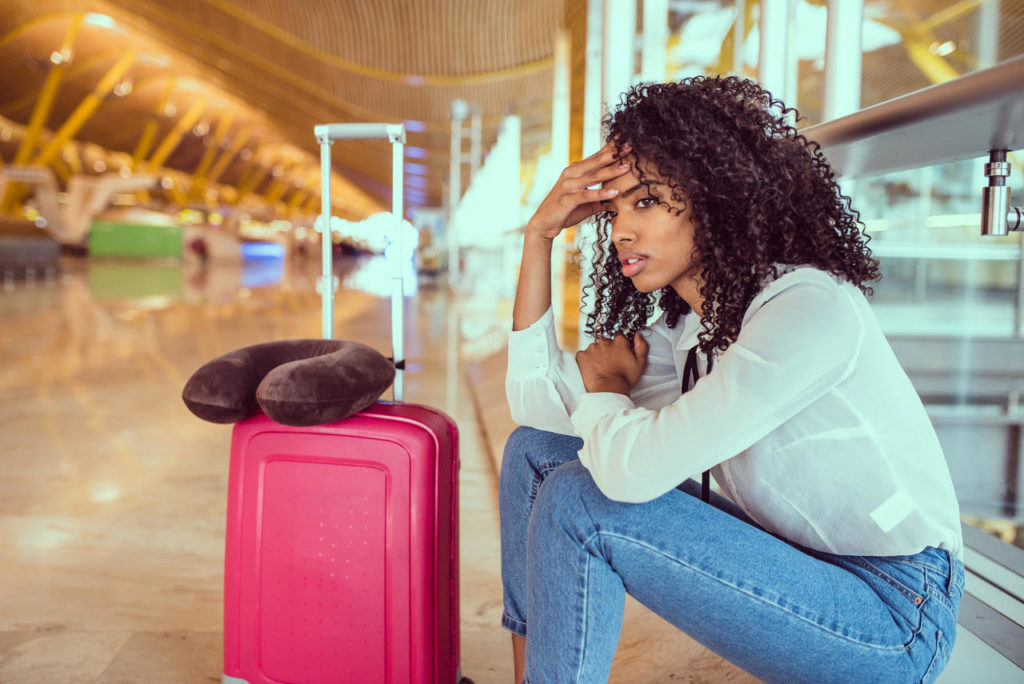 It happens. You're traveling when your flight is delayed by hours. The lunch you packed so carefully spills in your bag. You're on an impromptu road trip where meal planning is practically impossible. So, when caught in these situations, it's good to know what are some of the best choices to make with what you are given. Below are some tips and specific food recommendations from our favorite restaurants to keep you on track even when your plans go out the window.
Starbucks
No matter what airport or city you're stuck in, there's almost sure to be that iconic green mermaid someplace close by. Below are some tips to make the best choices at Starbucks along with food recommendations to keep you guilt-free.
Keep your coffee skinny – with just small adjustments, you don't have to compromise flavors to keep your coffee drinks from being calorie bombs!
Ask for fewer pumps of syrup or select a sugar-free syrup (available in Vanilla or Cinnamon Dolce), or our Skinny Mocha Sauce.

Try a zero-calorie sweetener.

As for "less whip or "no whip."

Make it "skinny," which means the beverage is made with nonfat milk, no whipped cream and a sugar-free sweetener if available.

Enjoy a coffee or espresso beverage without sweetener – just flavor at its purest.

Try asking for Blonde Espresso in your espresso beverage instead of the usual Signature Espresso baristas use (it's no extra charge). Blonde Espresso is smooth and naturally sweet, making it perfect for an unsweetened Americano or Cappuccino – hot or iced.
Choosing food wisely – Going for more of the protein-rich foods are better choices as they can keep you fuller for longer, especially if you're trapped in an airport for hours at a time.
Breakfast recommendations include:
Eggs & Cheese Protein Box (460 calories, 23 g protein)

Spinach, Feta & Cage-Free Egg White Breakfast Wrap (290 calories, 19 g protein)

All of Starbucks Sous Vide Egg Bites

Bonus carb choice: Classic Oatmeal or Hearty Blueberry Oatmeal

You can add a Greek yogurt or string cheese for extra protein
For lunch, some yummy, protein-packed options with at least 20 grams of protein and a full serving of fruits and vegetables include:
Smoked Turkey Protein Box (360 calories, 24 g protein)

PB&J Protein Box (520 calories, 20 g protein)

Cheese & Fruit Protein Box (450 calories, 20 g protein)

Chicken Wrap Protein Box (460 calories, 20 g protein)
Chipotle
Can you believe that some people actually brand this chain as "unhealthy"? Those with that perception must not be making the right choices, because Chipotle is not only super mouthwatering, but can be one heck of a healthy meal if you do it right. Not to worry, we have all the tips you'll ever need to help bring you back to Chipotle below:
Pick your toppings wisely

– There's nothing wrong with indulging in some guac and sour cream every now and again, just make sure to adjust your other fillings accordingly so you don't end up with a calorie bomb for a meal. The calorie counts for a typical portion of chipotle toppings is as follows:

Rice: 210 calories

Beans :130 calories

Guacamole: 230 calories

Fajita Veggies: 20 calories

Lettuce: 10 calories

Cheese: 110 calories

Sour cream: 110 calories

Choose burrito bowls

– The tortilla in a chipotle burrito alone clocks in at around 300 calories. If you are really hankering for a grain vessel for your fillings, opt for the corn tacos which are only 200 calories for three shells.

Get extra of the right stuff

: If you want a little more food without all the extra calories, you can omit the rice and ask for extra fajita veggies instead. No extra charge! The grilled and smoky fajita vegetables also add some extra flavor.

Just need a taste?

– The cheese and sour cream can add up quickly, but as a tip you can ask to only order half of these toppings if that's all you need to be satisfied

Don't stress on the meats and more

–  All of the meats (except the limited-availability chorizo which isn't the ideal choice at 300 calories a serving) are comparable in terms of calories, so don't stress about which is "the best" choice. The same goes for salsas which are famously low in calories, but packed with flavor.

Skip the chips

– At 570 calories a serving which adds up to 1000 calories with a large side of guacamole, opting for that side of chips with your burrito or bowl could turn your meal into an atom bomb of calories! If you do want to indulge in chips, split them with a friend and eat them with some Chipotle salsa instead.
Panera Bread
Another popular and ubiquitous chain is Panera Bread. It's got lots of variety, but can quickly turn into nothing better than a fast food place if you aren't careful. To prevent falling in this trap, choose some of the following dishes:
Entree
Lentil Quinoa Broth Bowl with Cage-Free Egg (340 calories)

Soba Noodle Broth Bowl with Chicken (360 calories)
Salads
Spinach, Bacon & Poppyseed Salad (350 calories)

Greek Salad (390 calories)
Sandwiches
Lobster Roll (500 calories)

Steak & Arugula on Sourdough (470 calories)
Soups
Cream of Chicken & Wild Rice – Bowl (310 calories)

Turkey Chili – Bowl (340 calories)

Chicken Noodle – Bowl (170 calories)
None of these choices striking your fancy? No worries, below are some general tips and hacks for Panera Bread to keep you satisfied when you're out and about without sabotaging yourself:
The dishes listed below are whole servings. However, you can always opt for half salad, half sandwich or a cup of soup if you want a smaller portion and less calories.

Going with a salad or sandwich? One Panera hack to keep in mind is that you can add extra of most veggies like apple chips, cucumbers and kale for no extra charge! Not only is this more nutrients and vegetable servings, but all of that extra fiber will keep you nice and full.

You can switch out the bread on your sandwich for no extra charge also. So, if a sandwich you are really wanting is on croissant or bagel, just ask for them to use regular sandwich bread or ciabatta instead. Your waistline will thank you.