If you're like me, you're constantly looking for new ways to make healthy baking substitutes and satisfy your sweet tooth without compromising flavor. And the good news is, I have a few tricks up my sleeve to make this possible!
I have partnered with California Prunes to share healthy swaps using prunes while cooking or baking this year.
Prunes are unique because they can take on many different forms in baked goods, sauces, and snacks. Today, I'm going to show you ways to make healthy yet delicious cooking and baking substitutions with this mighty fruit.
Healthy Baking Substitute for Oil
The first healthy swap is using prune puree instead of oil in recipes. My delicious Butternut Squash Bread with Prunes is a perfect example. I made homemade prune puree and added it to the bread batter, which decreased the oil needed in this recipe, and also substituted the added sugar completely. Plus it makes the bread extra moist!
Healthy Baking Substitute for Sugar
Prune puree can also substitute added sweeteners in items like sauces. Many store-bought sauces add cane sugar or other forms of sweeteners. But instead, you can use prune puree for a naturally sweet addition.
It adds a sweetness to my Ground Chicken and Veggie Stir-Fry with Ginger Prune Sauce that ties together all of the flavors.
Easy and Healthy Sweet Treats with Prunes
I have a sweet tooth myself, so I came up with a nutrient-packed sweet recipe to satisfy my taste buds. Plus, it is not high in added sugars, and is a simple way to add protein and extra fiber.
Chocolate Peanut Butter Protein Energy Balls with Prunes
Next I have a simple snack option you can keep in the fridge during your busy weeks for a healthy and balanced bite – Chocolate Peanut Butter Protein Energy Balls with Prunes.
Many energy balls are held together and sweetened with maple syrup or honey, but instead, prunes can be both the binder and the sweetener. Cooked quinoa is also added for more volume, and added protein and energy.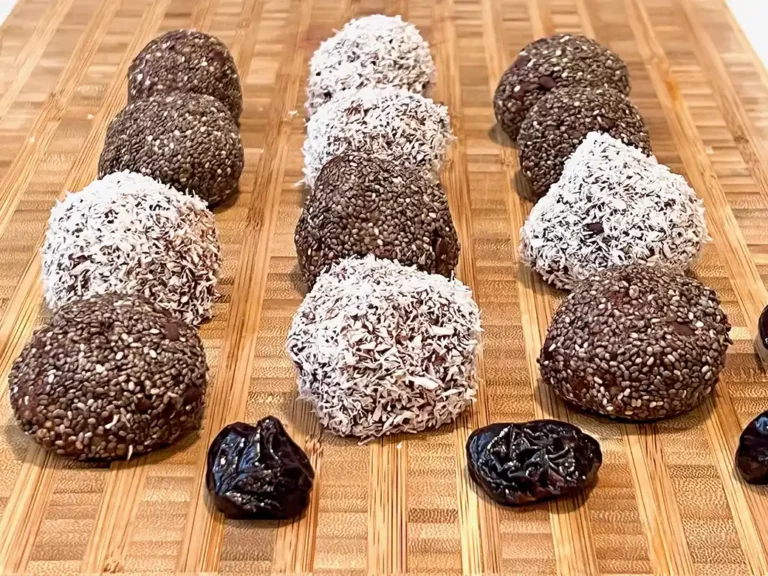 Chocolate Peanut Butter Protein Energy Balls with Prunes
These chocolate peanut butter protein balls are a nutrient-packed delicious treat. They are naturally sweetened with prunes, and provide a balance of protein, carbohydrates, and fat for a high-quality snack.
View the Recipe
Fun fact: Did you know that quinoa is an oilseed, not a grain, and it is a superfood from Peru? It is also one of the few plant-based proteins with all of the essential amino acids.
Daily Recommendations and Benefits of Prunes
Each of these ideas makes it easier to meet the recommended daily serving of California Prunes of 4-5 prunes. A serving of prunes supports digestive health & bone health, and is fiber-rich deliciousness!
Now it's your turn to choose one of these healthy baking substitutes and cooking swaps and experiment with prunes!
Visit California Prunes for more delicious prune recipes.