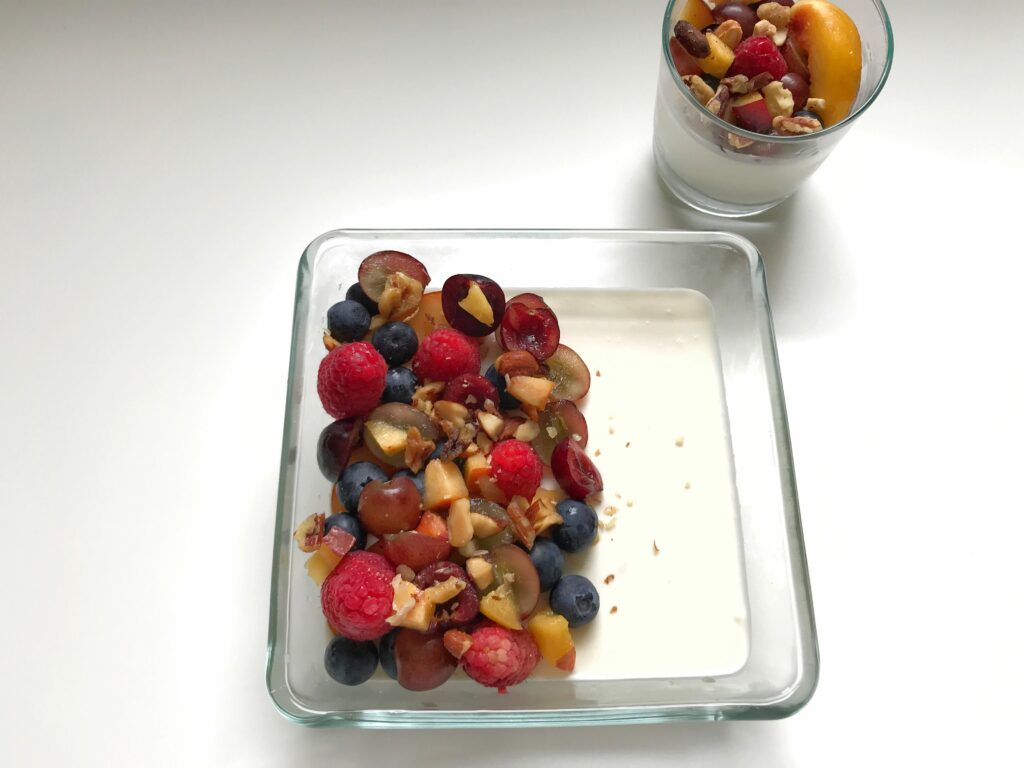 #Vegetarian 
A classic panna cotta with a little bit of extra protein. Top off with seasonal fruits and berries!
Recipe inspiration from: https://www.thekitchn.com/recipe-greek-yogurt-panna-cotta-258338
Servings: 8
Serving Size: 4 ounces
Ingredients:
2 tablespoon water
1 teaspoon unflavored gelatin
1 cup plain greek yogurt, low fat
1 cup heavy cream, divided
1/4 cup granulated sugar
2 teaspoon vanilla extract
For toppings:
1/2 cup blueberries
1/2 cup cherries, pitted, sliced
1/2 peach, pitted, sliced
1/2 cup walnuts, chopped
2 oz chia seeds
Directions:
1. Combine water and gelatin in a small bowl. Set aside.
2. Place the yogurt and 1/2 cup of the cream in a medium bowl and whisk to combine; set aside. Place the sugar and remaining 1/2 cup of cream in a small saucepan over low heat and bring to a simmer. Stir only to dissolve the sugar. About 3 minutes.
3. Remove from the heat and stir in the vanilla. Add the gelatin mixture and whisk to dissolve into the warm cream. Pour this mixture into the bowl of Greek yogurt and whisk until smooth.
4. Divide the mixture evenly among the ramekins or glasses. Cover loosely with plastic wrap and refrigerate at least 4 hours or overnight.
5. Top off with blueberries, cherries, peaches, walnuts, and chia seeds.