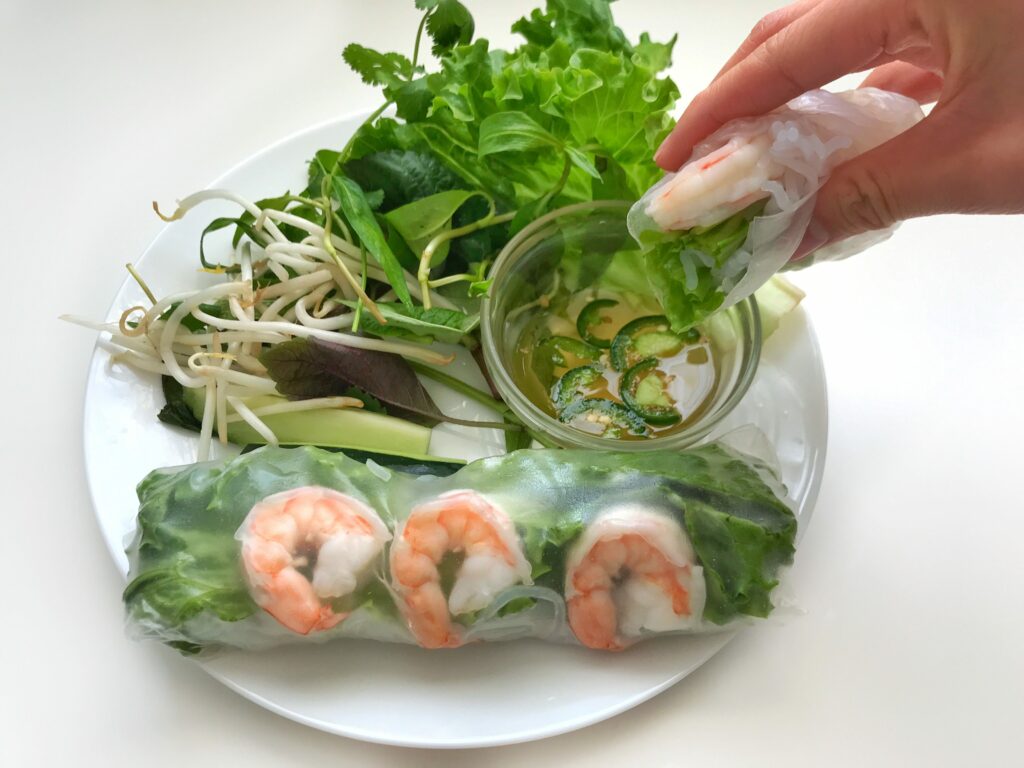 #Pescatarian 
These spring rolls switches out traditional vermicelli with yam noodles. Yam noodles are a bit crunchier than traditional vermicelli and add nice texture. Spring rolls are often served with an extra side of lettuce, bean sprouts, cucumbers, and mint leaves which makes them a great way to get your vegetable intake for the day!
Try this recipe if you want your family to be more involved with the cooking process. Just mise en place all the ingredients and have a bowl of moderately warm water at the table to rehydrate the rice paper.
Servings: 4
Serving Size: 3 rolls
Ingredients: 
12 rice paper sheets
12 ounces shrimp, cooked
12 ounces yam noodles, rinsed, drained, patted dry
1 cup bean sprouts, washed, patted dry
3 ounces carrots, shredded
12 ounces lettuce, washed, patted dry
Extra:
Fish sauce for dipping
Hoisin sauce for dipping
Jalapeno for spice
Directions: 
1. Follow instructions on rice paper packaging on how to rehydrate.
2. Place shrimp towards the lower middle of rice paper, followed by yam noodles, bean sprouts, carrots, and lettuce.
3. Fold the bottom half of rice paper over ingredients. Fold in both sides. Tightly finish rolling rice paper until a spring roll forms.
4. Serve with extra vegetables of choice and dipping sauce of choice.
Chef's Note: 
Wrapping a spring roll can be harder than it seems. Don't worry if you do not get it on the first try, keep trying! The secret is to get the rice paper soft enough to handle but not over soak it.