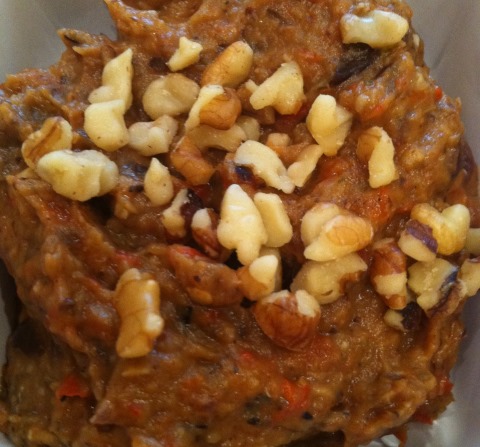 The word "Ratatouille" comes from the French term "touiller," meaning to stir or to toss.  The traditional recipe for ratatouille includes the stewing of various summer crop vegetables, including zucchini, eggplant, bell peppers, tomatoes, onion and garlic.  While this recipe does not reflect the customary preparation, ratatouille nonetheless served as the inspiration for this wonderfully flavorful spread.  Our Roasted "Ratatouille" Spread goes equally great with roasted chicken or pork as it does tossed with pasta, served atop a slice of bread, or stirred into a fresh bowl of soup.
Roasted "Ratatouille" Spread
Ingredients:
3 eggplants, cut into 1" chunks
2 red bell peppers, cut into 1" chunks
1 red onion, cut into 1" chunks
6 cloves garlic, whole
3 Tbsp olive oil
2 Tbsp oregano, dried
Salt and pepper to taste
1 cup walnuts, lightly toasted and chopped
Equipment:
Large sheet pan
Food processor
Directions:
Preheat oven to 450°F.
Place eggplant, bell pepper, red onion and garlic on a large sheet pan.  Toss vegetables with olive oil, oregano and salt and pepper to taste.  Roast in the oven until soft and slightly caramelized, about 25 minutes.
Cool vegetables just enough so that you can handle them without burning your hands.  Working in batches, place vegetables in the food processor and process until smooth.  Adjust salt and pepper if needed.
Sprinkle Ratatouille spread with toasted walnuts right before serving.