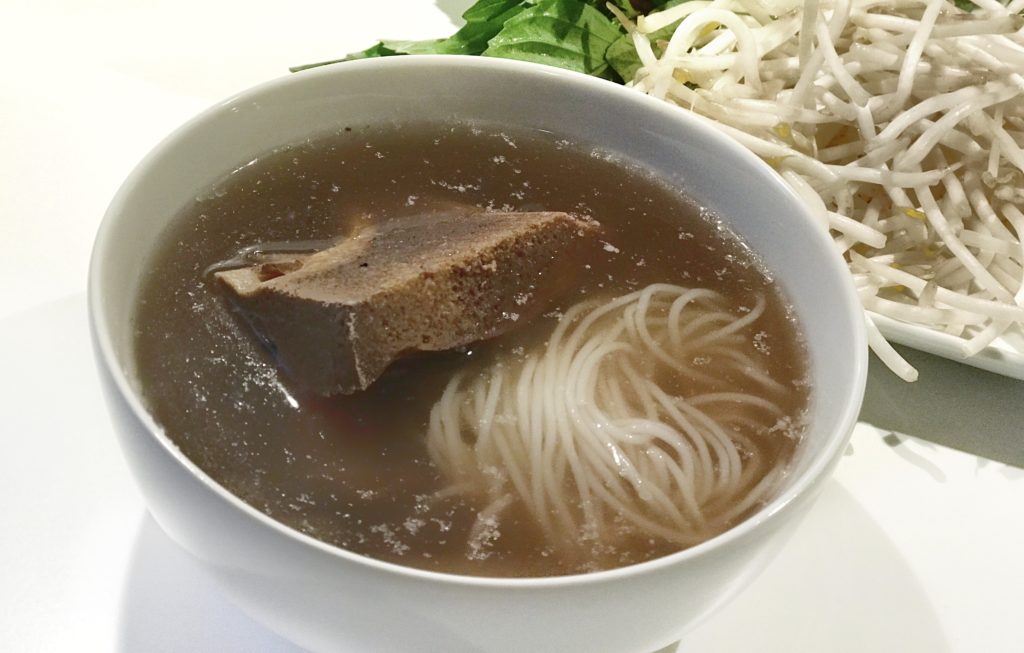 Gluten Free
Do you ever crave the hearty beefy broth you get at Vietnamese restaurants? Well, here's a recipe that produces similar hearty flavors that you can make at home!
Servings: 8
Serving size: 2 cups
Ingredients:
For Broth:
6 quarts water
5 ½ pounds beef bones
2 medium onions, washed, peeled, quartered
5 ounces fresh ginger, washed, quartered
1 stick cinnamon
5 star anise
2 tablespoon fennel seeds
4 whole cloves
1 tablespoon coriander seeds
4 tablespoon fish sauce
1 ounce rock sugar (or 1 tablespoon granulated sugar for substitution)
Salt to taste
For Pho:
3 oz dried rice noodles
3 oz beef, thinly sliced
Optional:
Bean sprouts
Green onions
Cilantro
Jalapeño
Basil leaves
Lemon, wedge
Hoisin sauce
Sriracha
Directions:
1. Bring water to a boil in a large stock pot (at least 10 quarts.)
2. Parboil beef bones for 2 minutes. Discard of the liquid and rinse the bones clean.
3. On a baking sheet, broil onions and ginger for 15 minutes.
4. Once the water is boiled, add beef bones, onions, garlic, spices, fish sauce and sugar to the broth.
5. Reduce heat to a medium and cook for 2 hours.
6. Occasionally skim the soup if residue appears.
7. Season with salt.
Enjoy on its own or use it as a soup base
Optional: to assemble pho
1. Cook rice noodles according to package
2. Place cooked noodles into a bowl and top with thinly sliced beef
3. Bring beef broth to a boil and pour into the bowl
4. Top off your bowl with optional toppings