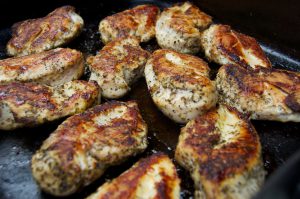 This is a great recipe to make over the weekend. Cooking the chicken all at once allows you to practice menu planning, enabling you to use cooked chicken throughout the week.
Servings: 6 Serving Size: 4 ounces
Ingredients
1 1/2 pounds skinless chicken breasts
juice of 1 lemon (3 tablespoons)
1 tablespoon canola oil
1/4 cup dry oregano
salt and pepper
Directions
Preheat the oven to 450 degrees F.
Place the chicken breasts in a roasting pan. Pour the juice and oil over the breasts and toss them to coat. Sprinkle the chicken breasts with the oregano and salt and pepper to taste.
Bake the chicken for 22 minutes or until crisp and golden on the outside and moist on the inside. Remove it from the oven and let it cool for 5-10 minutes before slicing.