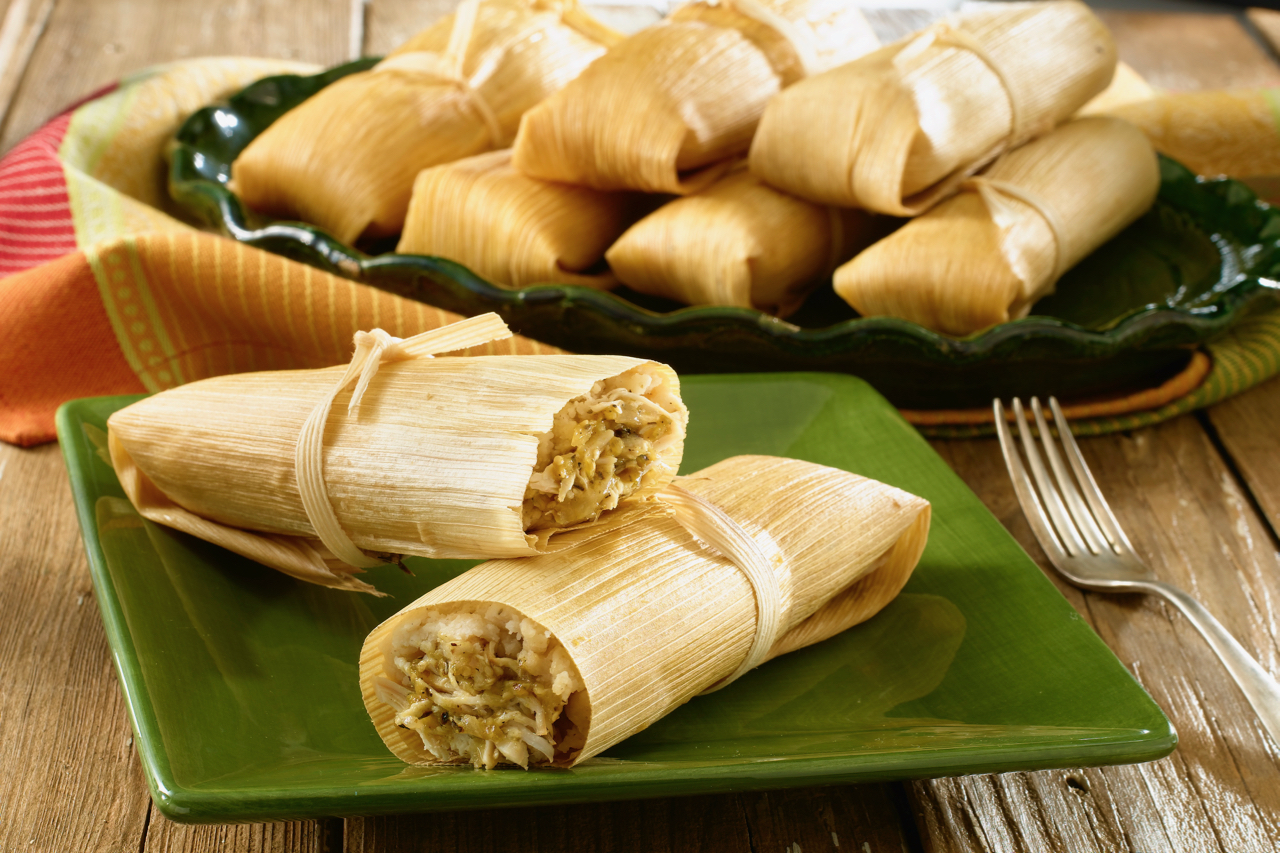 Who doesn't like tamales? Each Latin country has its own twist on a tamale and in Latin culture it's known as a food that's super delicious, but usually only enjoyed on special occasions due to it being a bit of a guilty pleasure. Fortunately, I have partnered with Unilever and Vive Mejor to put a twist on tamales to create tasty nutritious treat that can be enjoyed for any meal. Vive Mejor provides great information to Latina moms to help them make meals that do more with ideas to simplify meal prep and give nutritious twists to family-favorite meals.
For decades across Latin culture, the process of making the tamales is probably more exciting than eating them. It's a festive process that brings families together and celebrations. Tamales are a staple and probably the oldest food item in Hispanic cuisine, dating all the way back to the times of the Aztecs.
However, is it possible to create a more nutritious twist on a tamale? Absolutely! Typically, tamales include ingredients such as pork or other dark meat and animal fat for the filling, but 'better-for-you' substitutions can easily be made without sacrificing the classic Latin flavors. In the recipe below, inspired by Vive Mejor's recipe for Chicken Tamales with Green Chile, I have substituted dark meat which is higher in saturated fat for chicken breast and lard for canola oil. Including canola oil in place of a fat like lard, which is very high in saturated fat, is an exceptionally easy substitution to make for a more balanced meal. Canola oil has the least saturated fat of all common oils, is free of trans fat and cholesterol, and has the most omega 3s of any cooking oil. To enhance the flavors in this recipe, I'm also using Knorr® Chicken flavor Bouillon cubes.
Knorr®'s chefs pride themselves on sourcing high quality ingredients. In 2016, Knorr® added three Landmark Farms – rice, dairy, and garlic – in the U.S. These Landmark Farms are agricultural role models among our suppliers, offering examples of implementing the best sustainable practices in areas such as reducing water and energy consumption, minimizing fertilizer usage, optimizing renewable resources and increasing biodiversity.
So, now that we've twisted the tamale into a tasty and more nutritious option, what about the drinks? Usually the beverages that accompany tamales in the Latino festivities are usually atoles, hot chocolate and sugary drinks. Instead, I like to pair my tamales with hot brewed Lipton tea. Not only is it low in calories and sugar, but also daily consumption of at least 400 mg of flavonoids helps maintain a healthy heart. A cup of Lipton® Black Tea contains approximately 175 mg of flavonoids per cup.
For this recipe and more mealtime inspiration, be sure to check out ViveMejor.com. And when you do create this delicious meal, show us how you put your own spin on it with a photo and tag it with #MiCocinaViveMejor.
INGREDIENTS
30 corn husks
2 lbs. chicken breast, shredded
10 tomatillos
1 white onion
1 serrano chili peppers
1 Tbsp. canola oil
3 cloves garlic
2 Tbsp. Knorr® Chicken flavor Bouillon, divided
1 3/4 cups water
3 cups masa for tamales
¾ cup canola oil
1 1/2 tsp. baking powder
DIRECTIONS
Soak corn husks in warm water until soft, about 1 hour. Drain and thoroughly dry corn husks.
Cover chicken with water in 4-quart saucepot. Bring to boil over medium-high heat. Reduce heat to low and simmer until chicken is thoroughly cooked, about 30 minutes. Remove from chicken from saucepot. Cool, then shred; set aside.
Toss tomatillos, onion, serrano pepper, and garlic in oil and broil until evenly charred, turning occasionally; allow to cool slightly. Process vegetables, 1 tablespoon Knorr® Chicken flavor Bouillon and garlic in blender or food processor until smooth. Cook processed vegetables with shredded chicken in 12-inch skillet low heat, stirring occasionally, until thickened and excess water has cooked out, about 5 minutes.
For masa dough, dissolve remaining Bouillon in boiling water. Pour water into mixing bowl, then stir in masa harina and baking powder. Beat on medium speed using paddle attachment, until combined. Remove from bowl and set aside.
Add oil. then add masa mixture, a handful at a time, until mixture is smooth and well combined. Increase speed to high and beat until masa is a soft, thick paste, about 4 minutes. Cover and set aside.
Spread 1/4 cup masa dough onto each husk. Place 2 tablespoons chicken filling on the middle of the masa dough. Fold sides of corn husk to center, wrapping the filling. Fold one end of corn husk up against the seam to seal.
Arrange tamales vertically in steamer basket over a pot over boiling water, top with extra husks. Cover with lid and steam until husks pull away from filling, about 45 minutes. Check water level often and add additional water as necessary to avoid burning tamales. Cool tamales 3 minutes before serving.
Disclaimer: Manuel Villacorta, M.S., R.D., is a spokesperson/ambassador for Unilever and is paid for services which include, but not limited to, photography, videography, recipe development, social media promotion and online contributions.
– "I only represent companies that I truly believe in their mission and love their products. I use them often myself as they are the best, nutritionally foods available. All the opinions expressed this article or video are my own" – Manuel Villacorta.