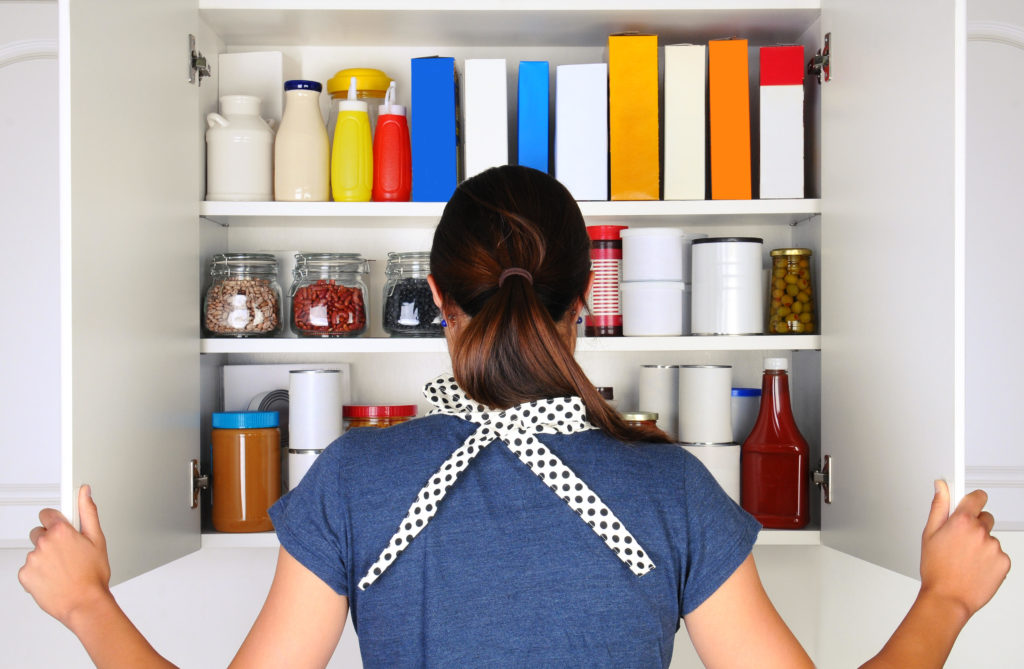 Being too tired for an impromptu grocery trip or needing to throw together a last-minute meal for friends or your family are scenarios that happen all too often. And that's not even to mention those rainy or snowy days when going out for grocery haul is the last thing you want to do. That's why I've put together a list of long-lasting, affordable food items that every person should have in their pantry at all times. Not only are these foods packed with good nutrition, but they are versatile enough that you can throw them in a variety of recipes and put together a healthy meal no matter how busy you get.
1.) Oats: Eating breakfast is so important for jump-starting the metabolism, provide energy to get you through the day and prevent hunger cravings. So, for a healthy breakfast or even dinner, try stocking up on some uncooked oats. They are low-cost, convenient and shelf-stable. Oats are a great source of soluble fiber which supports heart health. The fiber in oats also functions as a prebiotic to feed your gut bacteria and keep your digestive system healthy. My favorite way to incorporate oats is by making overnight oats. Overnight oats are a fantastic grab-and-go breakfast option for those of us who don't have time to make breakfast before rushing out of the door in the morning. The best part is that making them only takes about 5 minutes the night before. Try one or both of my delicious overnight oats recipes below:
2.) Quinoa: Not only is this grain nutritious, but it is also so easy to cook. By mixing one part quinoa to two parts water, the cooking can be completed in 10 to 20 minutes. I recommend cooking enough for several days and refrigerating it to eat with various meals throughout the week. You can throw it in salads, into soups, under a chicken breast; once it's cooked you can use it however you like! If you want to add some flavor, cook your quinoa in broth (chicken or vegetable) rather than water, and sauté onions and garlic to stir in with it. For some breakfast or dinner ideas using quinoa, check out the recipes below:
Talk about a tasty way to get in your whole grains!
3.) Canned Tomatoes and Beans: Many have the impression that canned foods are less nutritious than what you find in the fresh produce section. In fact, in many cases, it is quite the opposite. Occasionally, the canning process can improve the nutrition power of the food. One good example is tomatoes. The heating process causes an antioxidant in tomatoes called lycopene, which has been known to prevent prostate cancer, preserve eyesight and lower the risk of heart disease, to be more bioavailable. This means the body can absorb more lycopene than from fresh tomatoes. I always keep canned tomatoes around to add to curries, pasta dishes and even to make a delicious tomato soup. Try the pizza (yes, I said pizza) recipe below using canned tomato products and see for yourself how easy it can be!
Let's face it: dried beans take forever to cook! This is where canned beans come in. If you're worried about sodium, no problem! Just be sure to drain the beans and rinse them in a strainer to reduce any added sodium or buy low-sodium. Then, you have the option to mix them with your quinoa or put them in soups. I keep a can each of black, pinto and garbanzo beans in my cupboard at all times. Want a fast and healthy hummus? Try mixing a can of garbanzo beans with a tablespoon of the water they were canned in, add a little cumin and a tablespoon of olive oil. Mix these in a blender and you have a fast, healthy hummus! Bottom line: don't neglect your beans because you're afraid of the prep. Legumes are among some of the healthiest plants in the world, so take advantage!
4.) Canned or pouches of salmon: Consider switching up from tuna and keeping a few cans of wild Alaskan salmon on hand. Salmon is richer in omega-3s and keeping cans that are shelf-stable is a brilliant way to keep high-quality, lean protein on hand when you need it. You can then use it to make on whole grain breads or mix in your salads. To get started, check out these mouthwatering salmon recipes:
5.) Fun food: Everyone has cravings, and it's never good to always deprive yourself. So, keep a treat on hand—but the right treat that's properly portion controlled. One good example is dark chocolate — the darker the better. Stick to chocolate that is 75 percent cocoa and up. I finish every day religiously with two squares of dark chocolate. This way you can end your day with a touch of sweetness that is also rich in antioxidants. Be warned though, that's only if you can limit yourself to two squares. If you can't stop after two or three, you may be a chocoholic, and this treat may not be the one for you.