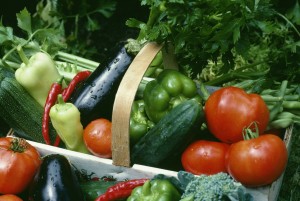 The term "slow food" has rapidly hit the nation as being a hot, new, and sustainable trend. "Slow Food" is defined as eating and supporting food from local sources that are also environmentally friendly. The concept behind slow food encourages people to learn how to enjoy food that supports the local community and the environment. So how can we get local and seasonal food throughout the nations? Check out these ideas:
Learn where your local farmers markets are located and shop there for your produce. Simply type in your zip code and find a farmers market near you. They are all over the country!
 Remember: focus on color of various fruits and vegetables. Each week try to eat a variety of colors by including a fruit or vegetable from every color of the rainbow. Have you had your red, orange, yellow, green, blue, purple, or white this week? While shopping at the farmers markets, you can even ask the farmer how to cook or eat the produce.
Remember: fruits and vegetables contain phytochemicals, which are important substances that plants naturally produce to protect themselves against viruses, bacteria, and fungi. These substances, such as carotenoids, flavonoids, and isoflavones, are known to promote bone health, vision health, brain health, and cardiovascular health. Also, these colorful fruits and veggies contain antioxidants which help to protect the body from cancer, cardiovascular disease, diabetes, and many other diseases when we ingest them.
Seasonal Suggestions: Use this guide to buy the fruits and vegetables in the season they are grown. Buying seasonal can also reduce cost and the produce is at its freshest point!
Spring- March, April May
Apricots (beginning of May)
Artichokes
Asparagus
Avocados
Basil
Beets
Boysenberries/Blackberries/Blueberries (beginning of May)
Broccoli
Cabbage
Carrots
Cauliflower
Celery
Cherries (beginning of May)
Chinese Cabbage
Cucumbers
Fava beans
Grapefruit
Green Garlic
Greens: Kale and Collards
Iceberg Lettuce
Kiwi
Mangoes
Okra
Spring Onions
Oranges
Papayas
Peaches (beginning of May)
Peas
Chile Peppers
Sweet Peppers
Radishes
Rhubarb
Shallots
Spinach
Spring Salad Mixes
Strawberries (beginning of May)
Summer Squash
Turnips
Watermelon (beginning of May)
Zucchini (beginning of May)
Summer- June, July, August
Avocados, Hass
Apples (beginning mid-July)
Apricots
Basil
Beets
Boysenberries/Blackberries/Blueberries
Cantaloupe
Cherries
Corn (beginning end of June to end of September)
Cucumbers
Dates
Eggplant
Figs
Garlic
Grapes (beginning mid-July)
Green Beans
Mangoes
Melons
Nectarines (beginning end of May)
Limes
Okra (beginning mid-July to mid-September)
Olallieberries
Onions
Oranges, Valencia (beginning mid-July)
Peaches
Peas
Pears (beginning mid-August)
Chile Peppers
Sweet Peppers
Pineapples
Plums
Potatoes
Strawberries
Summer Squash
Fall- September, October, November
Acorn Squash
Almonds
Apples
Artichokes
Basil
Broccoli
Brussels Sprouts
Butternut Squash
Cabbage
Chinese Cabbage
Carrots
Cauliflower
Celery Root
Chestnuts
Chicory
Cranberries
Cucumbers
Dates
Eggplant
Endive
Fennel
Grapes
Greens
Iceberg Lettuce
Leaf Lettuce
Leeks
Mushrooms
Nuts
Okra
Mandarin Oranges
Naval Oranges
Parsnips
Pears
Chile Peppers
Sweet Peppers
Persimmons
Pistachios
Pomegranates
Quince
Shallots
Spinach
Winter Squash
Star Fruit
Sweet Potatoes
Swiss Chard
Tangerines
Tomatoes
Turnips
Walnuts
Yams

Winter - December, January, February
Artichokes (beginning in February)
Avocados
Bok Choy
Broccoli
Brussels Sprouts
Cabbage
Chinese Cabbage
Carrots
Cauliflower
Celery Root
Chicory
Fennel
Grapefruit
Greens: Kale and Collards
Green Onion
Kiwi
Kumquats
Leeks
Lemons
Wild Mushrooms
Mustard
Mandarin Oranges
Sweet Oranges
Parsley
Parsnips
Pears
Quince
Rhubarb, hothouse
Spinach
Winter Squashes
Sweet Potatoes
Turnips
Walnut
?
Sarah Koszyk, MA, RD, is a nutrition coach at Eating Free who cooks with love and loves to eat.