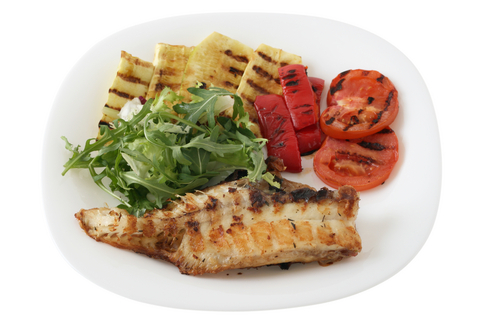 It is the season to get the grill fired up and bring on that wonderful, smoky taste. Forget the standard BBQ steak. Here are some reminders on how to switch it up and bring on some new grilling flavors.
Try grilling some vegetables! You can slice tomatoes, green peppers, red peppers, yellow peppers, zucchinis in half, sprinkle with a little salt and pepper, and spray some olive oil on them. Throw the veggies on the grill and eat up!
Grilled Fruit: my favorites are pineapple, mango, and peaches. Slice those fruits into cubes, place on a skewer and grill them for a succulent dessert. Or simply slice the fruits in half and grill on each side.
Tofu shish kabobs? Yes! Marinade your favorite veggies + cubed tofu and add them to a skewer. You're grilling it up, now.
Steaming Fish on the grill: you can steam fish by placing the fish, sliced lemon, chopped fresh herb of your choice (I like cilantro or Italian flat-leaf parsley), salt and pepper to taste all in tinfoil. Make sure to wrap the tinfoil tightly on the sides so none of the juices drip out. Place on the grill and steam it!
Remember: you can top your meats, veggies, and tofu with salsa made from tomatoes or sweet peppers or even fruit salsas to add flavor and a sauce that is low in calories. Bring on those salsas! Enjoy your gourmet grilling!
Sarah Koszyk, MA, RD, is a nutrition coach who cooks with love and loves to eat.