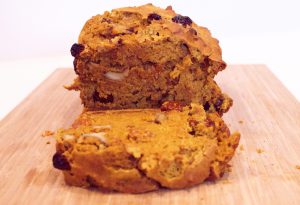 Vegetarian
This is the perfect addition to your classic Fall recipes. We all are familiar with pumpkin flavored everything, but using dried Pichuberry in this bread can add a new, sweet and tart twist that is sure to wow your guests this holiday season. Dried Pichuberry adds vitamin D, vitamin C, and vitamin A for anti-oxidant and immune boosting health.
Serves: 8 Serving Size: 1 slice (131 g)
Reboot Servings: 1.5 Grains & Starches, 0.5 Fruit, 0.3 Meat or Vegetarian Meat, 0.4 Sugar, 2.6 Fat
Ingredients
1 cup dried pichuberry, choppped
1 can (15 oz) pumpkin puree
¼ cup canola oil
2 whole eggs
1 teaspoon vanilla extract
2 cups all-purpose flour
½ cup coconut sugar
1 teaspoon baking soda
1 teaspoon baking powder
1 teaspoon all spice
1 teaspoon salt
½ cup walnuts, chopped
Directions
Preheat oven to 350 degrees F.
Thoroughly combine the dried pichuberries, pumpkin puree, oil, eggs and vanilla extract in a large bowl. In a separate large bowl, combine the flour, sugar, baking soda, baking powder, all spice and salt.
Gently fold in the dry mixture into the wet mixture until it is mixed well. Add the walnuts last.
Spray a 9-inch loaf pan with nonstick spray. Add the batter and place in the oven on the middle rack. Bake for 60 minutes or until golden brown and a toothpick placed into the center comes out clean.
Nutrition Facts

Kcal 331, Protein 8.5 g, Carb 44.2 g, Fat 13.9 g, Sodium 380.3 mg, Dietary Fiber 6.5 g
Fiber 26%, Vitamin C 7%, Vitamin A 167%, Vitamin D 16%, Calcium 7%, Iron 18%
Manuel Villacorta, M.S., R.D., is currently or has worked as a spokesperson/ambassador for Pichuberry, LLC and is paid for services which include, but not limited to, photography, videography, recipe development, social media promotion and online contributions.
-"I only represent companies that I truly believe in their mission and love their products deeply in my heart. I use them often myself as they are the best, nutritional foods available" – Manuel Villacorta.