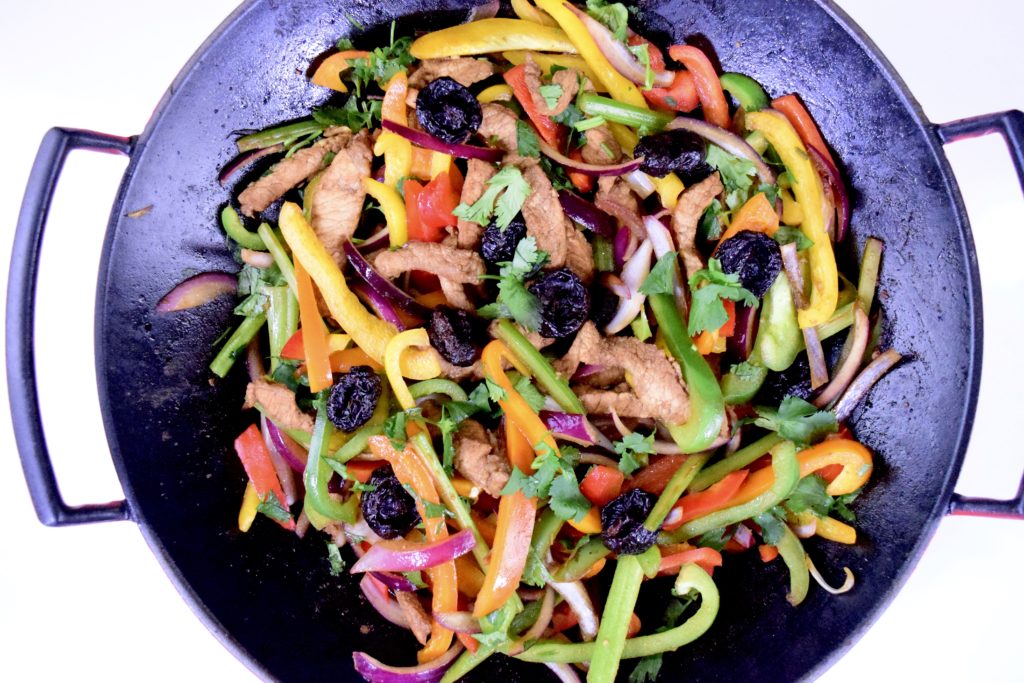 This delicious Prune-Infused Pork Stir Fry has lean protein from pork loin, with plenty of colorful vegetables all cooked in heart healthy canola oil and can be served with a good carbohydrate like brown rice.
Serving Size: 2 cups | Servings: 5
INGREDIENTS:
1/2 cup Sunsweet Amaz!n prune juice
1.5 lbs pork tenderloin, cut into strips
2 tablespoons canola oil, divided
4 bell peppers, assorted colors, sliced
1 medium red onion, sliced
1 clove garlic, minced
2 sticks celery, sliced
1 tablespoon chili paste
2 tablespoons balsamic vinegar
3 tablespoons low-sodium soy sauce
2 teaspoons ground cumin
1 cup Sunsweet Amaz!n prunes
1 cup cilantro, chopped
Salt and pepper to taste
DIRECTIONS:
Marinate pork in prune juice at least one half hour.
Heat wok or medium skillet on high heat. Add oil and remove pork from marinade. Add the pork to the pan and cook for 3 minutes. Discard marinade.
Once cooked, put pork aside. Add the second tablespoon of oil to the wok or skillet and then add the peppers, onion, garlic and celery. Cook for one minute.
Return pork to skillet or wok. Add chili paste, balsamic vinegar, soy sauce and cumin. Cook for another two minutes.
Remove from heat. Add prunes and cilantro. Stir well and serve.